One of the first improvements made by the Japanese government after the Meiji Restoration was the introduction of a modern postal service, because the old system, with post stations and mail couriers was old and too slow. Therefore, a Japanese statesman named Hisoka Maejima was sent to Great Britain, to study the British General Post Office. He returned to Japan in 1871 and established the Japanese Post Office, initially between Tokyo and Osaka and soon expanded throughout the country.
An interesting aspect of the Japan Post is its service mark, yūbin māku 〒, which is a stylization of the katakana テ ("te"). The symbol comes from the word teishin, which means "communications" and it is so widely used to indicate the postal code, that it was included in the Japanese character sets (it is the Unicode character U+3012).
And since we like the Japanese mascots, I must add that there's also a… mascot version for the Japan Post symbol: meet Number-kun 〠, which was also important enough to receive its own Unicode character, U+3020.
The full Japan Post marking is quite complex, including the 〒 sign between the kanji forming the word 郵便 (yūbin), with the word POST written beneath.
Here it is displayed on an old post box from the traditional street Kashiya Yokocho (the "Sweets Store Alley") from Kawagoe.
Click on photo for higher resolution: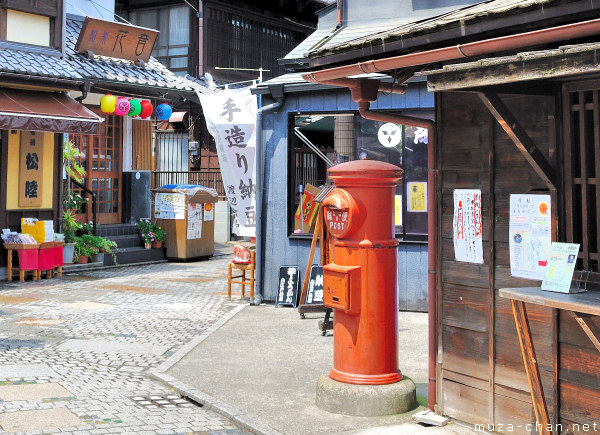 Japanese Mail Box, Kawagoe
If you want to license my photos for commercial use, please
contact me
EXIF Info:
| | |
| --- | --- |
| | Nikon D90 |
| | Lens: VR 18-55mm F/3.5-5.6G |
| | Focal Length: 18mm |
| | Aperture: F/5.6 |
| | Shutter Speed: 1/640s |
| | ISO Sensitivity: ISO 200 |
| | |
| --- | --- |
| | Yesterday's Japan Photo: |