The population of the Chiba Prefecture reached 5 millions in 1983 and, to celebrate this event, the Chiba Port Tower was inaugurated 3 years later.
The tower is a splendid "needle" covered in mirrored glass and when the weather is fine it seems completely blue, like in this photo. I said "needle", because with a height of 125 meters and a narrow rhomboidal section (the length of a side is only 15 meters), Chiba Port Tower seems extremely thin.
A structure so tall and narrow needs to be strong enough to withstand high winds and earthquakes. To protect it from oscillations, the designers built it with a system called tuned mass damper. This system, weighting 15 tons, is installed on top of the tower and is designed to move against the motion caused by the wind or by the seismic wave.
The Chiba Port Tower was the first building in Japan designed with such a system and can withstand wind gusts of over 210 km/h and earthquakes of level 7 (maximum level in the Japanese Shindo seismic intensity scale).
Click on photo for higher resolution: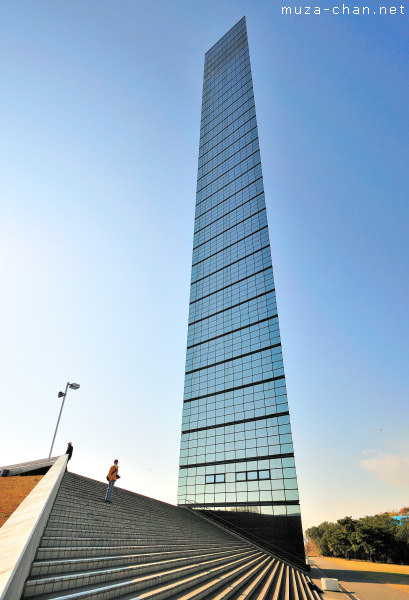 Chiba Port Tower, Chiba
If you want to license my photos for commercial use, please
contact me
EXIF Info:
| | |
| --- | --- |
| | Nikon D300 |
| | Lens: 8-16mm F/4.5-5.6G |
| | Focal Length: 13mm |
| | Aperture: F/5 |
| | Shutter Speed: 1/3200s |
| | ISO Sensitivity: ISO 200 |
| | |
| --- | --- |
| | Yesterday's Japan Photo: |