The customs of Shinto, the indigenous religion of Japan, are little known in the world, and since a visit to Japan cannot be complete without a visit to important Shinto shrines, it is good to know a few rules of etiquette applying to shrine visits.
When entering inside a Shinto shrine, the visitor should perform a symbolic cleansing called temizu (from te "hand" and mizu "water" - water to purify the hands). This purification is considered indispensable before visiting the sacred area and it signifies the removal of evil and pollution. For the ritual, every shrine provides an ablution pavilion - chōzuya or temizuya - usually a stone basin filled with clear water, with wooden ladles.
How to properly perform temizu:
Take the ladle with your right hand, fill it with water and pour some water to rinse your left hand. Then, move the ladle to your left hand and pour water over the right hand.
Now, you take again the ladle into your right hand, cup the left hand, pour some water into it and use it to rinse your mouth.
Finally, repeat the rinsing of the left hand and place the ladle back.
Click on photo for higher resolution: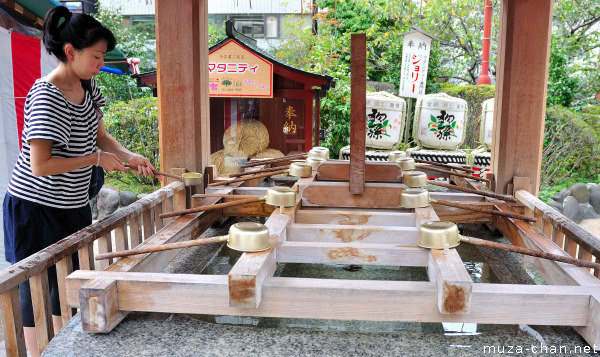 Suiten-gu Shrine, Nihombashi, Tokyo
If you want to license my photos for commercial use, please
contact me
EXIF Info:
| | |
| --- | --- |
| | Nikon D90 |
| | Lens: VR 18-55mm F/3.5-5.6G |
| | Focal Length: 18mm |
| | Aperture: F/5.6 |
| | Shutter Speed: 1/200s |
| | ISO Sensitivity: ISO 200 |
| | |
| --- | --- |
| | Yesterday's Japan Photo: |