The double-helix staircase is an architectural element found often in the Western architecture, but quite rare in Japan. In Aizu-Wakamatsu you can visit a unique wooden temple-tower, Sazae-do, built in 1796 with a splendid double-helix sloped staircase.
The two spirals are never in contact, so by going up and down the stairs the visitor will experience a single, non-repeating route: in my photo you can see the topmost part, equivalent to the 3rd floor, where a bridge joins the two slopes.
This up-and-down route has a remarkable spiritual significance: originally, along the double-helix path there were 33 statues of Kannon (the Buddhist tradition says that, to save people, Kannon appears in 33 different forms), each statue symbolizing a temple. So, visiting the building was the equivalent of a pilgrimage to 33 Kannon temples - a very popular pilgrimage in Japan.
Unfortunately, this spiritual significance is lost now: after the Meiji Restoration, because of some anti-Buddhist policies, the statues were removed from the tower. But for the visitor interested in Japanese culture, the experience is still great…
Click on photo for higher resolution: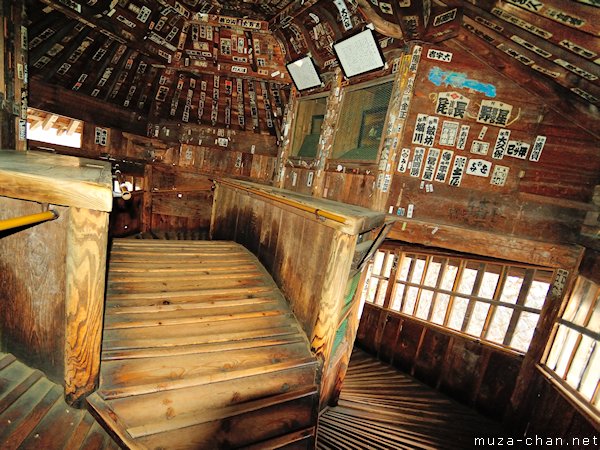 Sazae-do, Aizu-Wakamatsu
If you want to license my photos for commercial use, please
contact me
EXIF Info:
| | |
| --- | --- |
| | Nikon D700 |
| | Lens: 14mm F/2.8D |
| | Focal Length: 14mm |
| | Aperture: F/2.8 |
| | Shutter Speed: 1/60s |
| | ISO Sensitivity: ISO 2000 |
| | |
| --- | --- |
| | Yesterday's Japan Photo: |