Visiting Japanese temples, eventually you will wonder who are the characters represented so often by larger-than-life sculptures placed inside many temple gates… One of them is Raijin, the Japanese god of thunder and lightning (his name comes from rai "thunder" and shin "god"). One of the oldest Japanese deities, Raijin is an original Shinto god, also known as kaminari (from kami "spirit" or "deity" and nari "thunder") .
Represented as a red demon surrounded by a circle of drums (the "thunder"), his image is quite scary, but the Japanese tradition is often surprising: Raijin is also considered a good kami, a god of agriculture, and even its lightning has a good side: it fertilizes the rice plants. That's why, in the Japanese tradition, a place hit by lightning was marked with bamboo and shimenawa, being considered beneficial for the rice crops.
Recently, Raijin's popularity reached even the pop culture, not only in Japan but also in the West, where he is better known with his other name, Raiden (from rai "thunder" and den "lightning").
The most famous and easily accessible place where you will see a beautiful Raijin statue is the Kaminarimon Gate from Asakusa, Tokyo. But from what I visited until now, the most impressive statue of Raijin is the one from the Nitenmon Gate at the Taiyuin Mausoleum, Nikko, photographed here…
Click on photo for higher resolution: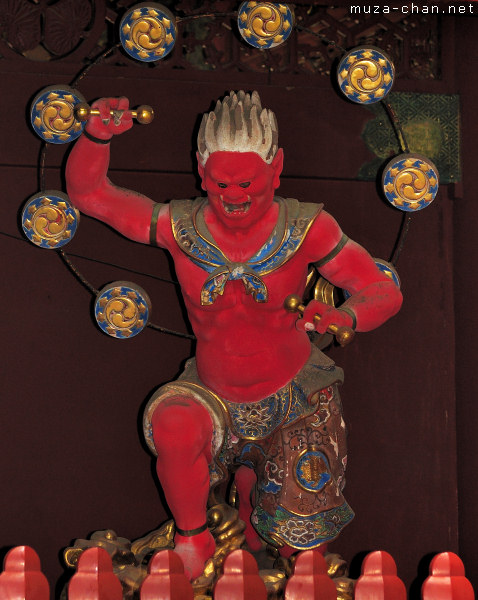 Raijin (The Thunder God), Nitenmon Gate, Taiyuin Mausoleum, Nikko
If you want to license my photos for commercial use, please
contact me
EXIF Info:
| | |
| --- | --- |
| | Nikon D90 |
| | Lens: VR 70-300mm F/4.5-5.6G |
| | Focal Length: 100mm |
| | Aperture: F/5.6 |
| | Shutter Speed: 1/60s |
| | ISO Sensitivity: ISO 200 |
| | |
| --- | --- |
| | Yesterday's Japan Photo: |