During the period of economic expansion from the beginning of the 90's, a number of huge statues were built in Japan. Some of them become famous, like the Ushiku Daibutsu or the Sendai Dai-Kannon. Others, however, are almost unknown…
While I was traveling by train from Kyoto to Kanazawa, I noticed such a giant and beautiful statue in the Kaga-Onsen station. Since my Nikon was in the bag, I realized that I wouldn't have time to take a picture - but I had the phone in my hand, so I took a snapshot with it. Of course, when I returned, I had the camera ready, but the light was different and the colors weren't as beautiful anymore… That's why, today, I will show you the picture taken with the phone - I prefer it because of the light and… because it captures the moment of discovery.
The statue is 73 meters tall and it is a Jibo Kannon (Jibo can be translated as "compassionate mother"), a beautiful representation of the goddess Kannon holding a child.
Click on photo for higher resolution: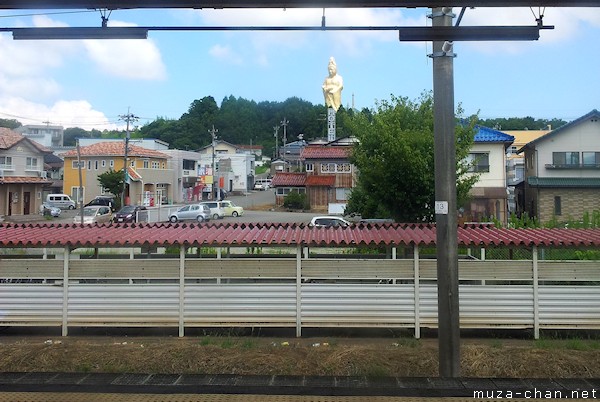 Kannon Statue, Kaga-onsen, Ishikawa
If you want to license my photos for commercial use, please
contact me
EXIF Info:
| | |
| --- | --- |
| | Yesterday's Japan Photo: |