In the Buddhist iconography, the hand gesture known as mudra and the ritual objects (jimotsu or jibutsu) held by the deities are all associated with a spiritual meaning and, just by looking at these elements, the represented deity can be precisely identified.
During my trips in Japan, while visiting Buddhist sites and attractions I found that it is useful to know such information… Today, I will start sharing with you some of the most interesting facts…
The gigantic Sendai Daikannon statue represents the Goddess of Mercy and Compassion, Kannon. In the left hand Kannon holds the Water Jar, called Mizugame or Suibyo in Japanese, symbolizing purification, washing away the impurities impeding the illumination. It is said that the jar contains a magical liquid, a remedy for illness. In the right hand, Kannon holds Nyoi Houju, a sacred jewel with the power to grant any wish and to stop the sufferings.
Click on photo for higher resolution: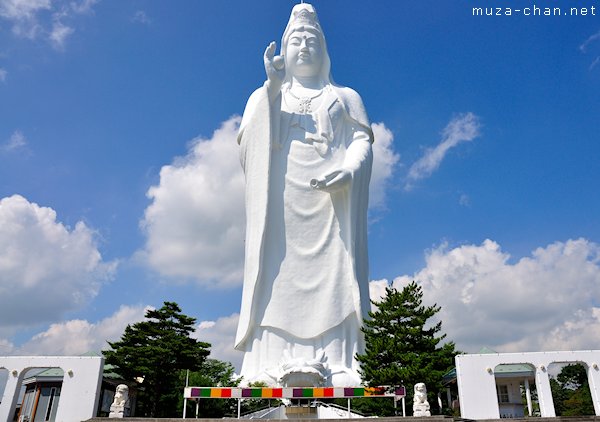 Sendai Daikannon Statue, Sendai
If you want to license my photos for commercial use, please
contact me
EXIF Info:
| | |
| --- | --- |
| | Nikon D90 |
| | Lens: 18-70mm F/3.5-4.5G |
| | Focal Length: 18mm |
| | Aperture: F/7.1 |
| | Shutter Speed: 1/1250s |
| | ISO Sensitivity: ISO 200 |
| | |
| --- | --- |
| | Yesterday's Japan Photo: |