400 years ago, Hachisuka Iemasa, the daimyo of the Awa Province in Shikoku Island, threw a big party for the Tokushima Castle inauguration.
After consuming a respectable amount of sake, the townsmen started dancing happily, on a rhythmic tune. And they enjoyed this dance so much, that the next year they did it again. And again… and so began the Awa Odori Dance Festival (Awa was the old name for Tokushima).
Since the dancers sing "Odoru aho ni miru aho; onaji aho nara odoranya son son!" (It's a fool who dances and a fool who watches; if both are fools, you might as well dance!), the dance is also named the "dance of fools".
At the beginning, the feudal government was quite unhappy with the new festival and created some rules: the festival can be no longer than 3 days, it was forbidden to dance inside the temple court and the samurai were not allowed to participate… but the rules were quickly broken, some samurai participating anyway, but hiding their faces.
In time, the festival spread all over Japan and today it's one of the most important (and joyful) celebrations and should probably be one of the things you must see in Japan.
Here's a photo from the Kagurazaka Awa Odori, which takes place in August in Shinjuku, on the streets nearby Bishamonten Zenkokuji Temple:
Click on photo for higher resolution: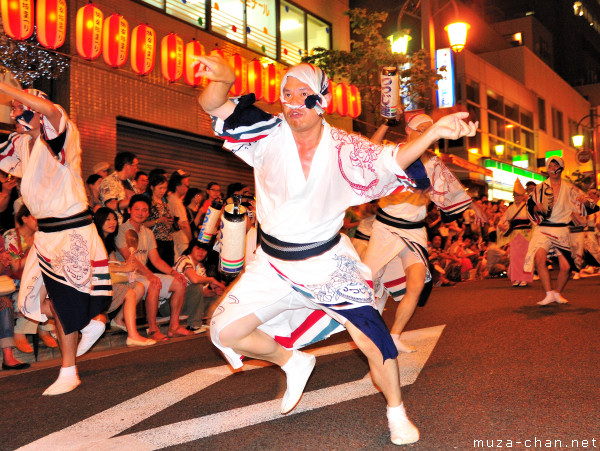 Awa Odori Dancers, Kagurazaka, Shinjuku, Tokyo
If you want to license my photos for commercial use, please
contact me
EXIF Info:
| | |
| --- | --- |
| | Nikon D300 |
| | Lens: 18-70mm F/3.5-4.5G |
| | Focal Length: 25mm |
| | Aperture: F/3.8 |
| | Shutter Speed: 1/60s |
| | ISO Sensitivity: ISO 400 |
| | |
| --- | --- |
| | Yesterday's Japan Photo: |