Unlike the European heraldry blazons, made with multiple colors, the Japanese kamon (crest) is monochromatic. This makes them suitable for stamps and a huge amount of kamon stamps were made over time, like the ones in my photo, found at a stall from the Ueno flea market.
From the hundreds of models, here are a few famous mon identifiable in the picture: Maruni sumitate yotsume 「丸に隅立四目」, the mon of the Shinozuka clan; Sasarindō (bamboo leaves and gentian flowers) the mon of the Minamoto clan; Ageha no chō the mon shaped like a butterfly of the Taira clan; Go shichi no kiri, the paulownia flower pattern, symbol of the Office of the Prime Minister of Japan; the crane mon of the Mori clan from Owari Province; the Takeda clan mon; the Asahina clan mon; Ichimonji Mitsuboshi, representing three stars under the kanji 「一」 (ichi, "one"), the mon of the Mori clan; the crests of the Ogasawara clan, Murakami clan, Maeda Clan, etc.
Do you have a favorite?
Click on photo for higher resolution: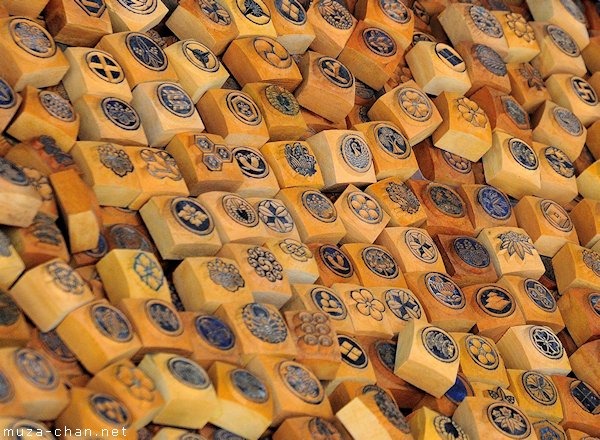 Kamon stamps
If you want to license my photos for commercial use, please
contact me
EXIF Info:
| | |
| --- | --- |
| | Nikon D90 |
| | Lens: VR 70-300mm F/4.5-5.6G |
| | Focal Length: 70mm |
| | Aperture: F/4.5 |
| | Shutter Speed: 1/400s |
| | ISO Sensitivity: ISO 640 |
| | |
| --- | --- |
| | Yesterday's Japan Photo: |