First time when I went to a matsuri, last year at Senso-ji, at Hozuki-ichi (Chinese Lantern Plant Festival), when I was strolling next to the stalls filled with flowers, sweets and beverages, I noticed a man pouring hundreds of little fishes into a big, inflatable pool.
I draw my camera and taken a few shots, under the happy gaze of the seller. I didn't knew the purpose of the pool, but I assumed that the fishes where for sale, so I moved further away.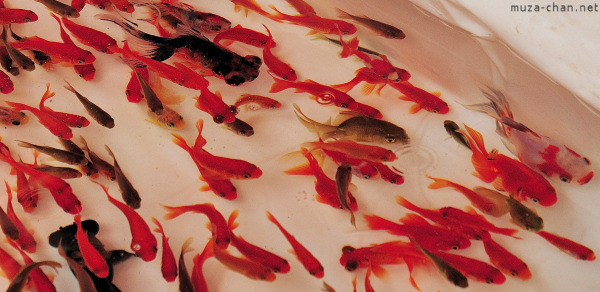 Later, I learned that this was a traditional japanese game, usually played at summer festivals, Goldfish scooping (金魚すくい, 金魚掬い , Kingyo-sukui). The game appeared in the Edo period, first as a children's game, and in time became so popular that in 1995 a National Competition of Goldfish Scooping was established.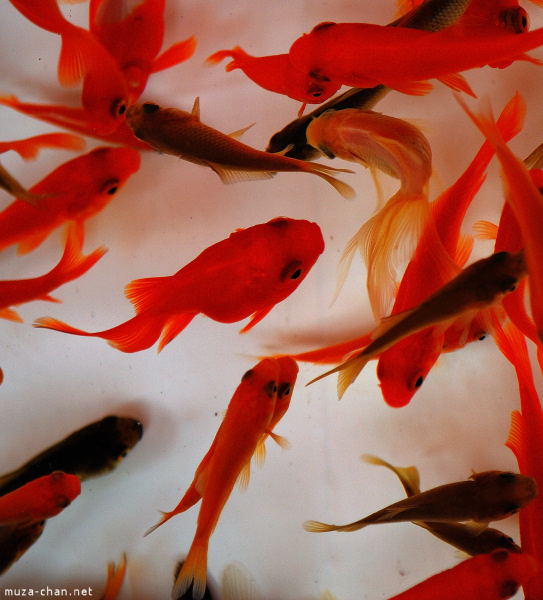 The purpose is to catch a goldfish using a special scooper called poi, built with thin paper on a round frame. A game costs 100 yens and lasts until the paper breaks (which usually happens very soon if you lack the skills). Usually, the scooped goldfishes are the prize.
At the next occasion I will play… even if I doubt I will be able to catch any goldfish.
Until then, I searched YouTube on this topic and found several funny videos.
Amazingly skilled kid:
This person seems to be an expert:
Prima dată când am participat la un festival, anul trecut la Senso-ji, la Hozuki-ichi (Chinese Lantern Plant Fair), când mă plimbam pe lângă tarabele cu flori, dulciuri şi băuturi, am văzut un vânzator vărsând dintr-un vas sute de peştişori coloraţi într-un vas mai mare gonflabil. M-am oprit şi am făcut repede două fotografii, sub privirea veselă a vânzătorului. Cum nu ştiam ce sunt, am presupus că sunt de vânzare şi nu le-am dat mai multă importanţă.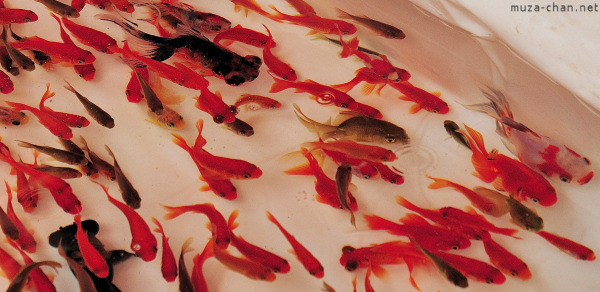 Mai târziu, am aflat că este vorba de un joc tradiţional japonez care se joacă la festivalurile de vară, Goldfish scooping (金魚すくい, 金魚掬い , Kingyo-sukui). Jocul a apărut în perioada Edo, mai întâi a fost un joc pentru copii, apoi a devenit atât de popular încât în 1995 s-a înfiinţat Campionatul Naţional de Goldfish Scooping.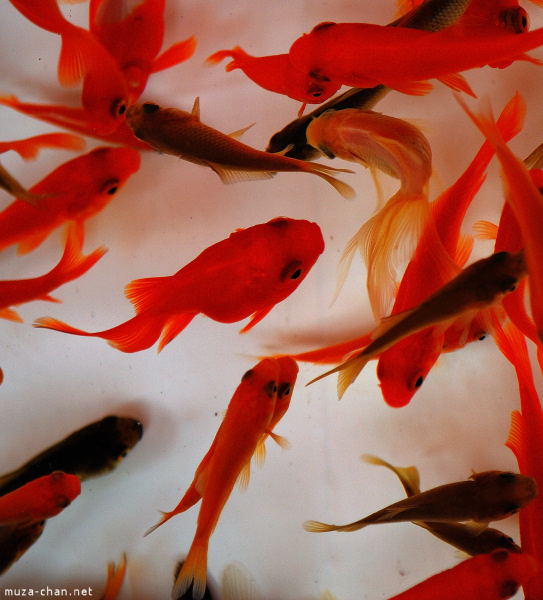 Trebuie să prinzi un peştişor folosind o unealtă specială numită poi, un fel de spatulă formată dintr-un cadru de plastic cu un mâner, pe care este prinsă o bucată de hârtie. O încercare costă în jur de 100 yeni şi durează până ce se rupe hârtia. Premiul este chiar peştişorul.
Cu prima ocazie am de gând să joc… dar mă îndoiesc că o să pot să prind ceva.
Am găsit pe YouTube câteva filmuleţe amuzante pe această temă.
Un puşti uimitor de abil:
Un expert: