53 years ago, a funicular line was built on Mount Kurama (north-west of Kyoto), to connect the Kurama station with the Kurama-dera Temple, located on the mountain 96 meters above the station.
Initially made like a classical funicular, with 2 cars with iron wheels, it was renovated in 1996 and it is now one of the most modern funiculars I have used, with a single car with rubber tires. Anyway, the official name is Kurama-yama Kōsaku Tetsudō (Mount Kurama Cable Railway), so the Kurama-dera funicular is still considered a railway and with a length of only 200 meters, this is the shortest railway line in Japan.
The Kurama-dera funicular also holds a few other interesting records: this is the only line operated by a religious institution and, with a fare of just 100 yen, this is also one of the cheapest lines in Japan…
And what's even more interesting, the temple recommends… not to use the funicular, because the walk will give stronger impressions. I agree with them, but I took it anyway… I just love funiculars!
Click on photo for higher resolution: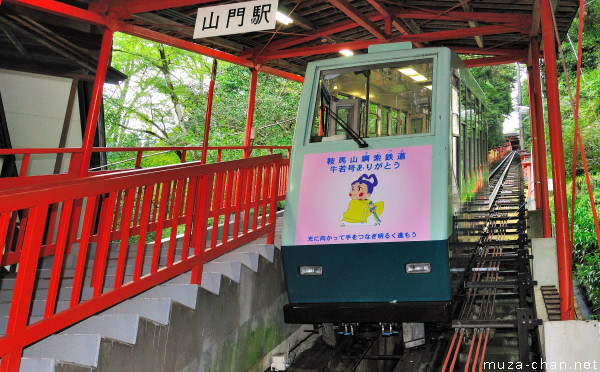 Mount Kurama Cable Railway, Kyoto
If you want to license my photos for commercial use, please
contact me
EXIF Info:
| | |
| --- | --- |
| | Nikon D90 |
| | Lens: VR 18-55mm F/3.5-5.6G |
| | Focal Length: 22mm |
| | Aperture: F/7.1 |
| | Shutter Speed: 1/60s |
| | ISO Sensitivity: ISO 500 |
| | |
| --- | --- |
| | Yesterday's Japan Photo: |