It is common knowledge that Kabuki, the classical Japanese dance-drama, is performed only by men playing both feminine and masculine roles.
What is less known is the fact that kabuki was actually created by a woman and, at the very beginning, all the roles were… played by women!
Everything started in Kyoto in 1603, when Izumo no Okuni, a miko from Izumo Taisha Shrine, performed the first Kabuki Odori "eccentric dance" on the eastern shore of the Kamo river. The new type of drama was a huge success: after 4 years, Okuni and her theater troupe was invited to perform for the Shogun in Edo, while three years later, in 1610, they were invited to play for Date Masamune in Sendai.
Also in 1610, Minami-za, the first kabuki theater was established in Kyoto. Located right near the place of the first performance, next to the Shijo-ohashi bridge, Minami-za quickly became a landmark of Kyoto and remained so until now: today's building, a theater with over 1000 seats, was rebuilt in 1929 and is a Registered Tangible Cultural Property:
Click on photo for higher resolution: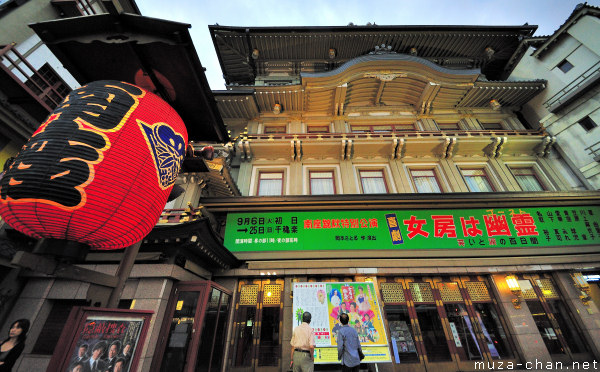 Minami-za, Kyoto
If you want to license my photos for commercial use, please
contact me
EXIF Info:
| | |
| --- | --- |
| | Nikon D300 |
| | Lens: 8-16mm F/4.5-5.6G |
| | Focal Length: 8mm |
| | Aperture: F/4.5 |
| | Shutter Speed: 1/60s |
| | ISO Sensitivity: ISO 500 |
| | |
| --- | --- |
| | Yesterday's Japan Photo: |