Since the old times, the traditional Shinto ceremonies featured sacred dances as offerings for kami. Originally, these dances were performed on temporary platforms raised near the shrine, but during the Heian period, the temporary stages were replaced by permanent constructions called kagura-den ("dance hall").
Today, only the larger and most important shrines have a kagura-den, in the smaller shrines the danced being performed in the main hall of worship (haiden).
Here is one of the most beautiful of them, the kagura-den from the Fushimi Inari Taisha from Kyoto, a pavilion similar to the ones used for Noh plays.
Click on photo for higher resolution: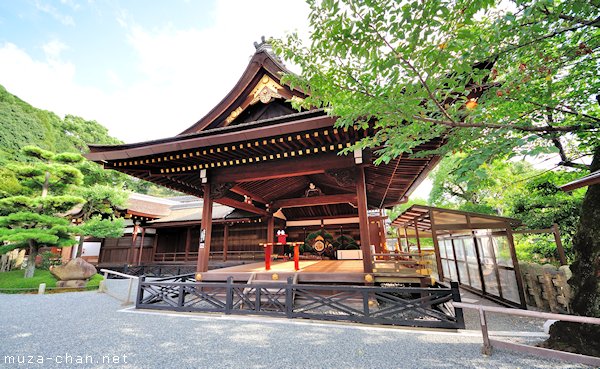 Kagura-den, Fushimi Inari Taisha, Kyoto
If you want to license my photos for commercial use, please
contact me
EXIF Info:
| | |
| --- | --- |
| | Nikon D90 |
| | Lens: 8-16mm F/4.5-5.6G |
| | Focal Length: 8mm |
| | Aperture: F/5.6 |
| | Shutter Speed: 1/160s |
| | ISO Sensitivity: ISO 200 |
| | |
| --- | --- |
| | Yesterday's Japan Photo: |