From the many exotic Japanese customs, one that I always enjoy is Maneki Neko, the beckoning cat. So when I learned that the Imado Jinja from Asakusa, Tokyo, is one of the two places related to the beginning of the Maneki Neko legend, I went there to visit and research.
Maneki Neko is one of the most popular lucky charms from Japan and these statues, representing a calico Japanese bobtail with a raised paw, can be found in almost every shop or restaurant, because it is believed that they bring prosperity by inviting the customers inside.
However, the Maneki Neko from the Imado Jinja are very special… Here, the cats are always represented in pairs, a male and a female. The reason is that Imado Jinja enshrines the couple of Shinto gods Izanagi-no-Mikoto and Izanami-no-Mikoto, so it is also known as a shrine from matchmaking. This attribute was applied to the Maneki Neko here, and now the paired statues are considered to bring, besides good luck in business, good luck in love and marriage.
Click on photo for higher resolution: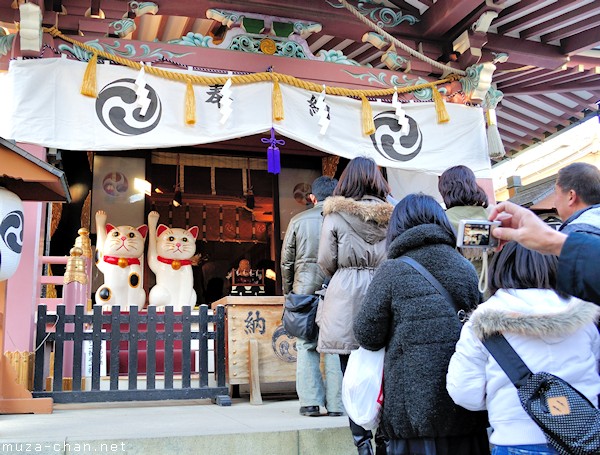 Imado Shrine, Asakusa, Tokyo
If you want to license my photos for commercial use, please
contact me
EXIF Info:
| | |
| --- | --- |
| | Nikon D90 |
| | Lens: VR 18-55mm F/3.5-5.6G |
| | Focal Length: 18mm |
| | Aperture: F/5.6 |
| | Shutter Speed: 1/320s |
| | ISO Sensitivity: ISO 200 |
| | |
| --- | --- |
| | Yesterday's Japan Photo: |