Surrounded by the older, rectangular skyscrapers from Shinjuku, the now 3 years old "Giant Cocoon", with its blue glass and aluminum facade, stands out from any angle. The Cocoon Tower name is directly related to the skyscraper's exterior aspect, and the architects explained that "Embraced within this incubating form, students are inspired to create, grow and transform"
Hosting three different schools (Tokyo Mode Gakuen - fashion school, HAL Tokyo - IT and digital and Shuto Iko - medical school) and being 204 meters tall, Mode Gakuen Cocoon Tower is the second tallest educational building in the world, surpassed only by the 240 meters Moscow State University.
For a deconstructivism fan like me, the building is absolutely charming. And not only for me, since the skyscraper, designed by the architects of the famous Tange Associates company, received in 2008 the Emporis Skyscraper of the Year award.
Click on photo for higher resolution: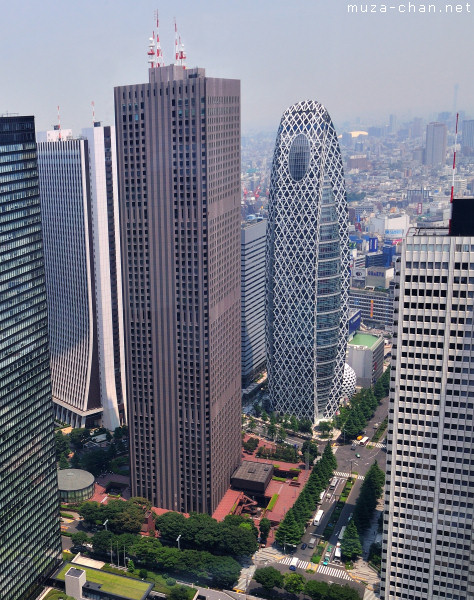 Shinjuku Center Building and Mode Gakuen Cocoon Tower, Nishi-Shinjuku, Tokyo
If you want to license my photos for commercial use, please
contact me
EXIF Info:
| | |
| --- | --- |
| | Nikon D300 |
| | Lens: 12-24mm F/4G |
| | Focal Length: 17mm |
| | Aperture: F/7.1 |
| | Shutter Speed: 1/640s |
| | ISO Sensitivity: ISO 200 |
| | |
| --- | --- |
| | Yesterday's Japan Photo: |