The most famous samurai duel in the history of Japan took place 402 years ago, on a small island in the Kanmon Straits, close to Shimonoseki. At the time of the duel, the name of the island was Funa-jima, but afterwards it was renamed Ganryū, after the name of the swordsmanship style created by one of the protagonists, Sasaki Kojirō.
The other samurai was the famous Miyamoto Musashi, and their duel is now represented by this impressive sculpture. Sasaki Kojirō is with his famous long sword Monohoshi Zao ("Laundry-Drying Pole"), while Musashi is with his equally famous bokken (wooden sword), sculpted (according to the legend) from an oar.
How the fight unfolded is not clear, there are many contradicting accounts and the truth is impossible to determine. According to the most popular version, Sasaki tried his renowned "swallow cut", but Musashi managed to hit him in the head with his huge bokken. However, there are many other versions to the story, and all that can be said for sure is that Musashi won the duel. However, I find it very interesting that… the island was named after Sasaki.
Click on photo for higher resolution: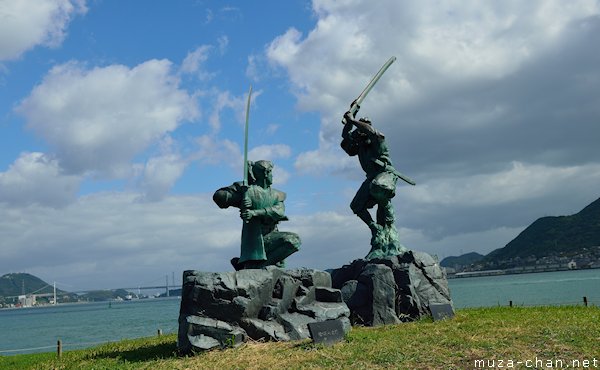 Miyamoto Musashi versus Sasaki Kojiro, Ganryu Island, Shimonoseki
If you want to license my photos for commercial use, please
contact me
EXIF Info:
| | |
| --- | --- |
| | Nikon Df |
| | Lens: 24-70mm F/2.8G |
| | Focal Length: 32mm |
| | Aperture: F/5.6 |
| | Shutter Speed: 1/600s |
| | ISO Sensitivity: ISO 1250 |
| | |
| --- | --- |
| | Yesterday's Japan Photo: |