Even if you're not a history buff, one of the must-sees in Japan is a real Japanese sword. And, in order to be able to appreciate their value, it would be well worth to read a bit about Japanese swords before visiting one of the museums featuring a sword collection.
I wrote "Japanese sword" (nihontō) and not katana because there are many types of swords and the most impressive may not the well-popularized katana but the older and more sophisticated tachi. Also, although the sword mountings (scabbard, hilt, hand guards) are often impressive, the really impressive part is the blade.
I photographed this Nagamitsu tachi blade, dating from the 13th century, at the Tokyo National Museum, thinking about how, after the end of the WWII, Dr.Junji Honma, an eminent expert in swords, convinced General Douglas MacArthur that the authentic Japanese swords were not just weapons but precious cultural and historical artifacts. It is said that after Dr.Honma's presentation, General MacArthur was able to easily identify the valuable blades, changing the law so that only the war-time made, low-quality weapons were destroyed.
Click on photo for higher resolution: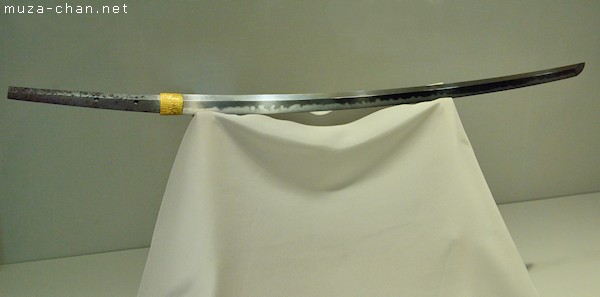 Japanese sword, Tokyo National Museum, Tokyo, Ueno
If you want to license my photos for commercial use, please
contact me
EXIF Info:
| | |
| --- | --- |
| | Nikon Df |
| | Lens: 24-70mm F/2.8G |
| | Focal Length: 32mm |
| | Aperture: F/6.3 |
| | Shutter Speed: 1/60s |
| | ISO Sensitivity: ISO 3200 |
| | |
| --- | --- |
| | Yesterday's Japan Photo: |