I never told you until now, but for a long time I wanted a mascot for this site…
It was a hard to achieve goal, because I wanted something original, professional, but also something to represent me…
I love painting, I like comics and manga, I know a little about drawing, but not enough to design a character to match my requirements… And because it wasn't something I could do myself, this wish seemed difficult to fulfill.
But this year on June 13th (yes, 13 always was a lucky number to me), my wish became true, because on that day a new character was born, Muza-chan… chibi me, as I like to call her. ;)
I'm happy and content today, the result is more than I dreamed of, it is more than a simple mascot, it's a representation drawn in an original style, with some manga influences, starting from my own look, attitude and personality, even having my own dressing style.
The Muza-chan mascot is the creation of a talented Romanian painter, I'll tell you more about him at the time of the launch.
She's still a work in progress, but I can already show you a little preview, just the face. B)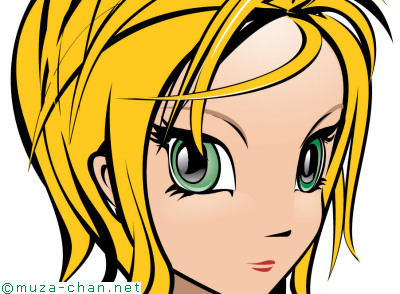 Isn't she adorable? She's sweet but strong, a little strict but kawaii and, of course… tsundere.
I fell in love ever since I saw the first sketch.