Inaugurated in 1972, the Nakagin Capsule Tower from Shimbashi, Tokyo, was the world's first example of functional capsule architecture. Created by the Japanese architect Kisho Kurokawa, part of the Japanese Metabolist movement, this is undoubtedly one of the most interesting buildings ever made.
The size of the capsules is 2.3 x 3.8 x 2.1 meters and from the very beginning they have been equipped with what was at the time a full set of amenities: fridge, TV set, radio, kitchen, furniture and sanitary installations. It's interesting that all the equipment was installed before the capsule was attached to the building, because the structure was designed so that each capsule is mounted on the concrete core with just 4 high-tension bolts. Thus, any capsule can be replaced without even affecting the capsules around it!
34 years after it was built, the interiors were obsolete and plumbing problems occurred, so one day the residents voted to have the building demolished and replaced with a modern one… Then, Kisho Kurokawa came up with a project to save the building and modernize it by replacing the old capsules with modern ones. Actually, right from start, the capsules were supposed to be replaced after 25 years…
But unfortunately for the Nakagin Tower, the residents disagreed with the new project, so this architectural masterpiece is currently marked for demolition…
Fortunately, because of the recession, no developer showed interest in this property, even if the high priced Ginza is just around the corner.
Every year when I returned to Shimbashi, I anxiously looked for it… it's still standing… A few organizations like Japan Federation of Architects, Building Engineers Associations, Japan Institute of Architects and Docomomo Japan are fighting to find a solution to declare this tower a landmark and to save it… and I hope they will succeed.
The Nakagin Capsule Tower is the embodiment of a great idea and it shouldn't disappear… And I was thinking - since the residents don't want it anymore, maybe it could be redesigned as a hotel - I would love to spend some nights there… wouldn't you?
Click on photo for higher resolution: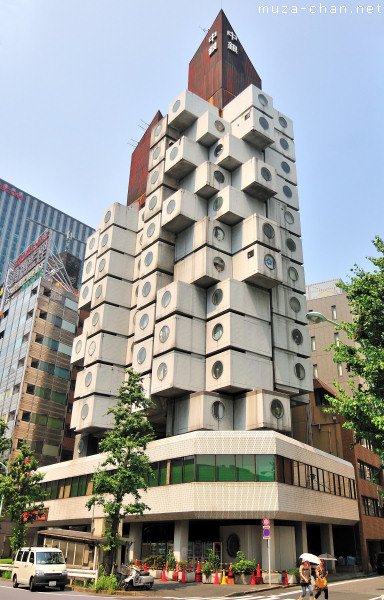 Nakagin Capsule Tower, Shimbashi, Tokyo
If you want to license my photos for commercial use, please
contact me
EXIF Info:
| | |
| --- | --- |
| | Nikon D90 |
| | Lens: VR 12-24mm F/4G |
| | Focal Length: 19mm |
| | Aperture: F/4.5 |
| | Shutter Speed: 1/1600s |
| | ISO Sensitivity: ISO 200 |
And here's a detail with the capsules, taken during nighttime: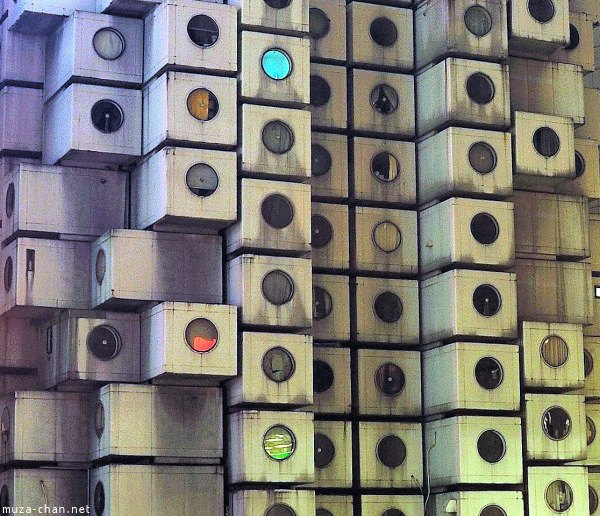 | | |
| --- | --- |
| | Yesterday's Japan Photo: |