Noh 「能」 - also called Nogaku 「能楽」 - is the oldest form of classical Japanese musical drama. Noh was traditionally played only on special stages, made from hinoki wood (Japanese cypress), derived from the stages used at Shinto shrines for Kagura dances.
Resembling a shrine building, the main stage (hon butai) consists in a pavilion opened on 3 sides, connected with a wooden bridge (hashi-gakari) to the "mirror room" (kagami no ma), the place where the actors are preparing their entrance.
Today, Noh is still played on a traditional kind of stage, but the stages are usually located inside theaters. Really traditional Noh stages, located in open air like the one in this picture, are quite rare today.
This Nogakudo (Noh Theater) was built in 1881 in the Shiba Park, and in 1903 was moved at the Yasukuni Shrine.
Click on photo for higher resolution: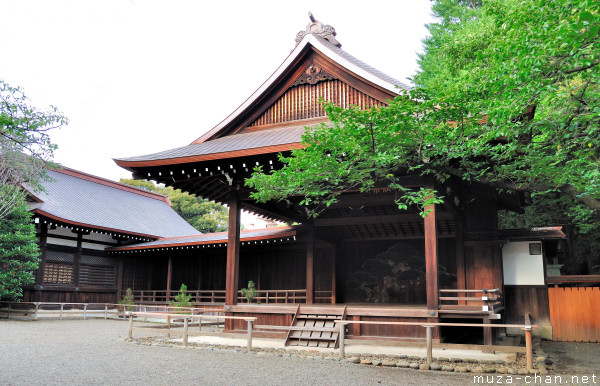 Noh stage - Nogakudo, Yasukuni Shrine, Chiyoda, Tokyo
If you want to license my photos for commercial use, please
contact me
EXIF Info:
| | |
| --- | --- |
| | Nikon D90 |
| | Lens: VR 18-55mm F/3.5-5.6G |
| | Focal Length: 18mm |
| | Aperture: F/7.1 |
| | Shutter Speed: 1/50s |
| | ISO Sensitivity: ISO 200 |
| | |
| --- | --- |
| | Yesterday's Japan Photo: |