One of the best known love stories in the Japanese mythology is the legend of Okuninushi and Suseri-Hime, the daughter of the storm god Susanoo.
It is said that the girl's father didn't approve of the relationship and hoping to drive away Okuninushi, he asked him to pass three trials. The first trial was to sit in a room filled with poisonous snakes, and Okuninushi survived by using an enchanted scarf received from Suseri-Hime. The same scarf helped him overcome the second trial, when the room was filled with centipedes and wasps. For the third trial, Susanoo shot an arrow over a field, asking Okuninushi to find it, and then he set the field on fire. Okuninushi survived this time with the help of a mouse, who brought the arrow and also guided him to a hole where he hid from the fire.

After that, the two lovers managed to elope, and in the end the father consented to their marriage…
Because of this story, Okuninushi is known as the kami of happy marriages and there are shrines dedicated to him all over Japan. One of these shrines, photographed here, is the Jishu Shrine in Kyoto, located next to the famous Kiyomizu-dera.
Click on photo for higher resolution: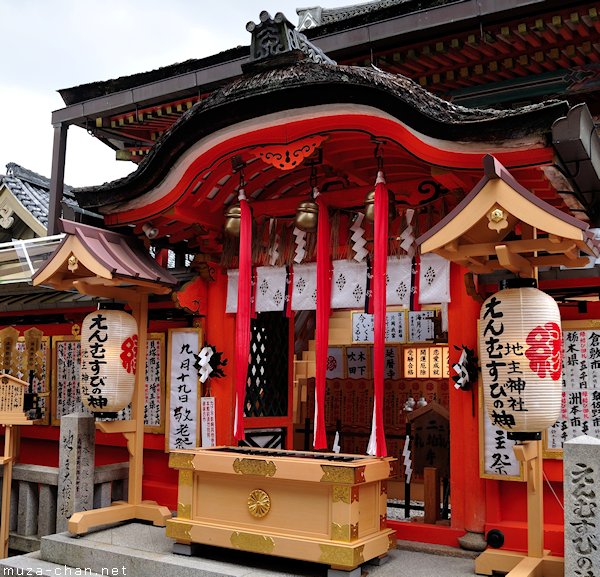 Jishu Shrine, Kyoto
If you want to license my photos for commercial use, please
contact me
EXIF Info:
| | |
| --- | --- |
| | Nikon D90 |
| | Lens: VR 18-55mm F/3.5-5.6G |
| | Focal Length: 18mm |
| | Aperture: F/5.6 |
| | Shutter Speed: 1/250s |
| | ISO Sensitivity: ISO 200 |
| | |
| --- | --- |
| | Yesterday's Japan Photo: |