The legend says that Prince Shōtoku, after a series of defeats during the battle of Mount Shigi, cut down a tree and sculpted a statue representing the Buddhist Four Heavenly Kings.
He mounted the statue on his helmet, praying to the gods for help in battle, and the victory came soon after, because his archers managed to kill the rival leader. To give thanks to the gods, Prince Shōtoku erected a temple dedicated to the Four Heavenly Kings - Shitennō in Japanese means "Four Gods".
Today, Shitenno-ji temple is one of the most interesting temples in Osaka, its five-story pagoda being one of the very few opened to visitors. Even more, you can climb to the top of the pagoda, a truly unique experience!
Click on photo for higher resolution: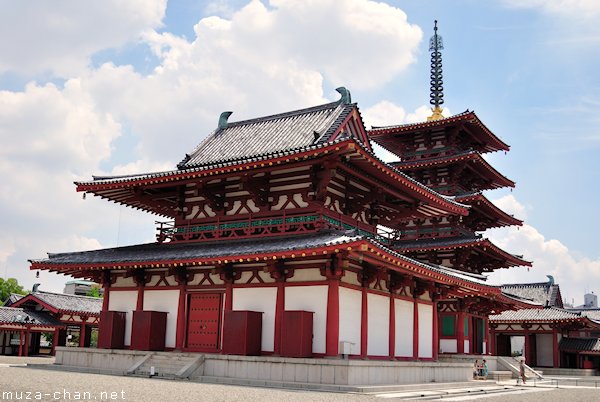 Shitenno-ji Temple, Osaka
If you want to license my photos for commercial use, please
contact me
EXIF Info:
| | |
| --- | --- |
| | Nikon D300 |
| | Lens: 18-70mm F/3.5- 4.5G |
| | Focal Length: 22mm |
| | Aperture: F/4 |
| | Shutter Speed: 1/2000s |
| | ISO Sensitivity: ISO 200 |
| | |
| --- | --- |
| | Yesterday's Japan Photo: |