Daruma Dolls are spherical dolls, usually red colored, representing Bodhidharma, the founder of Zen Buddhism. They are amulets for good luck, prosperity and especially for power to accomplish goals.
A Daruma Doll is always sold without drawing the eyes. The owner, when making the wish, draws the first eye. The second eye is drawn only after the wish is fulfilled.
But they have other uses also, like this big Daruma Doll, with both eyes drawn (meaning the wish was fulfilled), used as a vase for omikuji (paper fortunes), at the Hongaku-ji Temple in Kamakura.
Click on photo for higher resolution: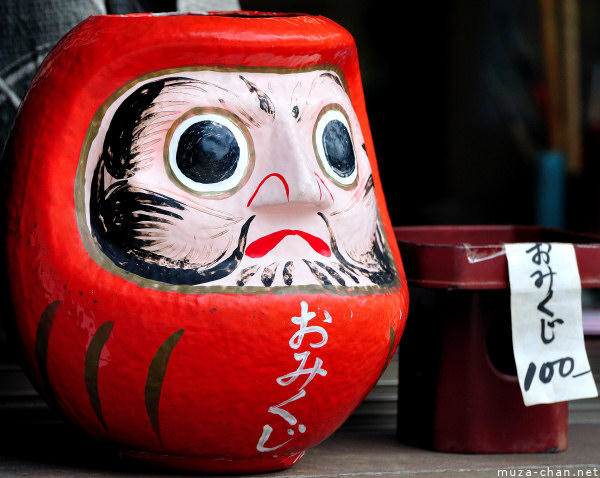 Daruma doll, Hongaku-ji Temple, Kamakura
If you want to license my photos for commercial use, please
contact me
EXIF Info:
| | |
| --- | --- |
| | Nikon D90 |
| | Lens: VR 70-300mm F/4.5-5.6G |
| | Focal Length: 155mm |
| | Aperture: F/5.6 |
| | Shutter Speed: 1/500s |
| | ISO Sensitivity: ISO 400 |
| | |
| --- | --- |
| | Yesterday's Japan Photo: |