In the Japanese tradition, the crane is a mythological being living one thousand years. That's why there is a Japanese custom of giving Senbazuru 「千羽鶴」, a group of one thousand origami paper cranes tied together, as a gift at childbirth (for long life and good luck) and at the wedding (for a thousand years of happiness). Also, having Senbazuru at home is considered a powerful lucky charm.
According to an old Japanese popular belief, the cranes will grant an important wish (like healing from illness) to any person who will fold 1000 origami cranes. In modern times, the thousand origami cranes also became a symbol of peace thanks to Sadako Sasaki, a 12 years old girl who, being ill from leukemia caused by the radiations from Hiroshima atomic bombing, tried to fold 1000 paper cranes…
Today, folding 1000 origami cranes means hope, healing and recovery after difficult times or after catastrophes. After the September 11 attacks, the members of the Japanese American National Museum sent thousands of origami cranes to New York, to fire departments, police stations and museums…
And today I just learned that the flight controllers and the crew of the NASA Expedition 27 folded origami cranes to honor those affected by the Tōhoku earthquake and tsunami. The origami cranes folded in space by the crew were placed inside the Japan Aerospace Exploration Agency transfer vehicle, Kounotori2.
Click on photo for higher resolution: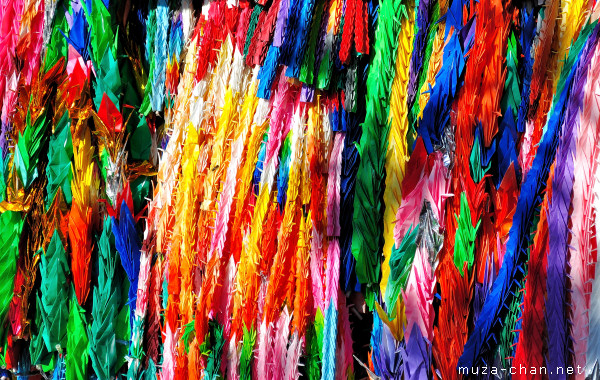 Senbazuru, Thousand origami cranes, Ofuna Kannonji Temple, Kamakura
If you want to license my photos for commercial use, please
contact me
EXIF Info:
| | |
| --- | --- |
| | Nikon D90 |
| | Lens: VR 18-55mm F/3.5-5.6G |
| | Focal Length: 55mm |
| | Aperture: F/5.6 |
| | Shutter Speed: 1/1600s |
| | ISO Sensitivity: ISO 200 |
| | |
| --- | --- |
| | Yesterday's Japan Photo: |