The Osaka Castle is one of the most glamorous Japanese castles, built by Toyotomi Hideyoshi as a symbol of its power and richness. It is known that Hideyoshi liked gold so much that he was using it to ornate furniture, weapons and armors… but this was not unusual for the powerful Japanese lords.
Toyotomi Hideyoshi went further and with the help of the tea-ceremony master Rikyu Sen, he built an entire golden tea room: the walls, the pillars and the ceiling were covered in gold and all the tools and vessels were made from gold. An original idea… I wonder if the tea tasted better…
But Hideyoshi went even further with its passion for gold: he covered with gold leaf the tower's exterior architectural ornamentation, including the shachi (roof ornaments in the form of a mythical ocean fish, creature believed to protect against fire) and the 8 giant fusetora (tigers)… The Osaka Castle was completely rebuilt in 1931, with all the details and ornaments - but, of course, they are not made from gold anymore…
Travel tip: At the 2nd floor of the Osaka Castle's main tower you can admire a full replica of a golden shachi and fusetora (1.5 meters tall, 3.3 meters wide). Also, the golden tea room was rebuilt and can be admired at the 3rd floor.
Click on photo for higher resolution: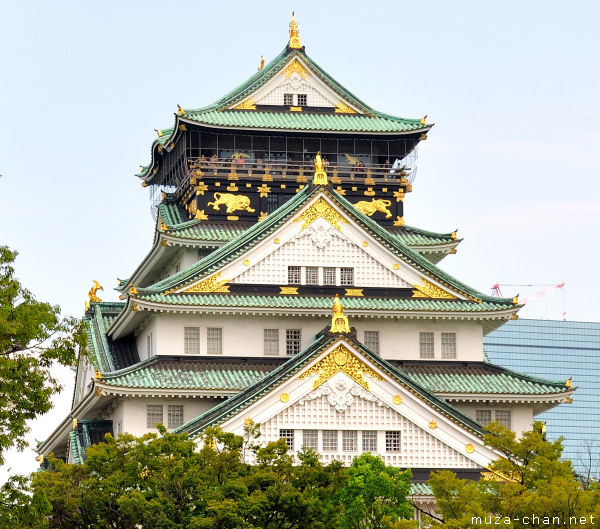 Osaka Castle, Main Tower, Osaka
If you want to license my photos for commercial use, please
contact me
EXIF Info:
| | |
| --- | --- |
| | Nikon D90 |
| | Lens: VR 18-55mm F/3.5-5.6G |
| | Focal Length: 40mm |
| | Aperture: F/5.6 |
| | Shutter Speed: 1/500s |
| | ISO Sensitivity: ISO 200 |
| | |
| --- | --- |
| | Yesterday's Japan Photo: |