Originally, the Japanese pagodas evolved from the Indian stupas, having the same role, to enshrine symbolic relics of Buddha. In the beginning of the Japanese Buddhism, the pagoda was one of the 7 halls composing the ideal Buddhist temple (Shichidō garan in Japanese), but in time the reliquary role was attributed to the main hall and the pagoda's importance decreased, becoming more ornamental.
Fortunately for the traditional architecture lovers, there are still many pagodas in Japan, some of them very old and well preserved, like this three-storied pagoda (sanjū-no-tō) from the Naritasan Temple. Built in 1712, it is 25 meters tall and it was declared Important Cultural Property.
The best part is that you can admire it in its beautiful original colors, because in 1983 it was restored according to an archive from 1803.
Click on photo for higher resolution: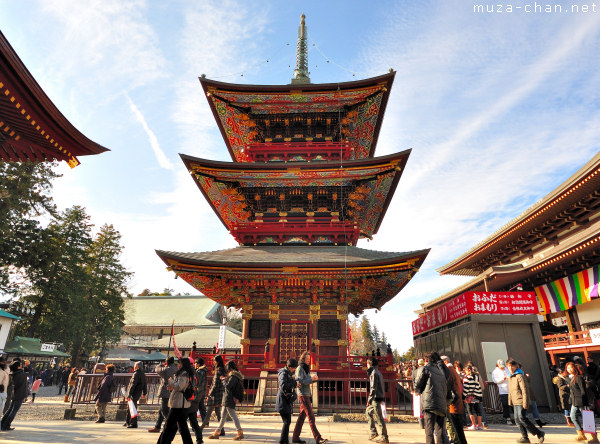 Three-storied Pagoda, Naritasan Temple, Narita
If you want to license my photos for commercial use, please
contact me
EXIF Info:
| | |
| --- | --- |
| | Nikon D90 |
| | Lens: 8-16mm F/4.5-5.6G |
| | Focal Length: 12mm |
| | Aperture: F/5.6 |
| | Shutter Speed: 1/640s |
| | ISO Sensitivity: ISO 200 |
| | |
| --- | --- |
| | Yesterday's Japan Photo: |