The climate of Japan varies widely from Okinawa to Hokkaido, so the cherry blossoming period begins as early as January in Okinawa, while the blooming period in Hokkaido starts no sooner than May…
Usually, the best period for cherry blossom viewing in Japan starts around mid-March and lasts until the beginning of April, but for more precision the Japanese Meteorological Agency publishes every year the Cherry blooming front forecast - Sakura Zensen, which indicates the date of the first bloom in every prefecture.
How is this prediction possible? There are two methods combined, a complicated formula which takes into account the temperature and an old-style method: around the country there are always 59 sakura cherry trees, carefully monitored. And if one of those trees happens to die, it is immediately replaced with another tree from the same area.
The Cherry blossoms forecast is very important because it is close related to hanami ("flower viewing") tourism and since the cherry flowers last so little time, if you want to fully enjoy sakura, you have to know the full bloom day… I used the Sakura Zensen prediction during my travels and it allowed me to see perfect trees, like this one, photographed on Mount Kurama, in Kyoto…
Click on photo for higher resolution: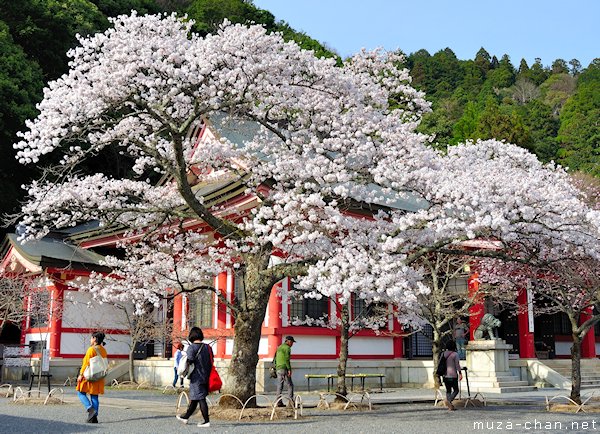 Kurama-dera, Kyoto
If you want to license my photos for commercial use, please
contact me
EXIF Info:
| | |
| --- | --- |
| | Nikon D90 |
| | Lens: 18-70mm F/3.5-4.5G |
| | Focal Length: 25mm |
| | Aperture: F/5.6 |
| | Shutter Speed: 1/640s |
| | ISO Sensitivity: ISO 200 |
| | |
| --- | --- |
| | Yesterday's Japan Photo: |