Matsukaze means "wind in the pines", and it is the name of the best known horse in the history of Japan, the horse of Maeda Keiji, a famous samurai of the Sengoku Period.
The story is somehow similar to the Old Shatterhand Western story by Karl May, because Matsukaze was a fine but wild horse, refusing to let anyone ride him. Maeda Keiji, who was also a wild man, managed to tame Matsukaze and, man and horse, they fought many battles together. After the samurai's death, Matsukaze run into the wild and was never seen again…
Here they are, represented on a spectacularly iluminated Nebuta float, inside the Warasse Nebuta Museum, in Aomori.
Click on photo for higher resolution: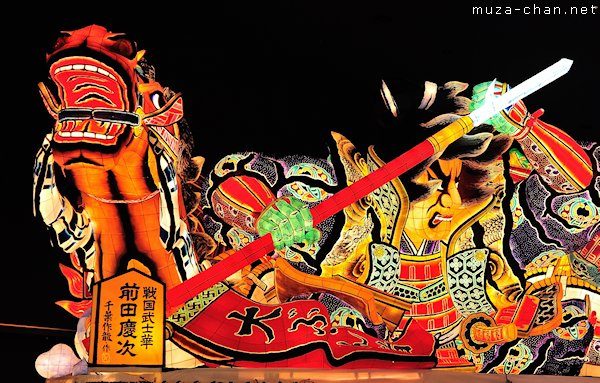 Warasse Nebuta Museum, Aomori
If you want to license my photos for commercial use, please
contact me
EXIF Info:
| | |
| --- | --- |
| | Nikon D700 |
| | Lens: 35mm F/2D |
| | Focal Length: 35mm |
| | Aperture: F/2.8 |
| | Shutter Speed: 1/80s |
| | ISO Sensitivity: ISO 1000 |
| | |
| --- | --- |
| | Yesterday's Japan Photo: |