During the period of peace and prosperity at the middle of the Edo period, even the magistrates were a bit more relaxed. During that era a magistrate was a very powerful official, being at the same time the chief of police, judge and jury.
Ōoka Tadasuke was a machi-bugyō (magistrate) of Edo during the rule of Tokugawa Yoshimune, the eighth shogun of the Tokugawa shogunate of Japan. He remained in history because he solved cases by using unusual methods.
His most famous was the case of a traveler whose merchandise, an expensive kimono cloth, was stolen while he was resting under a Jizo statue. Since there was no witness, Ōoka Tadasuke arrested… the Jizo statue, accusing the deity of neglect of duty, because in Japan Bodhisattva Jizo is the protector of travelers.

The statue was rope-tied and brought to the court for trial. People hearing this came in large number to the court, commenting and laughing. Thus, the magistrate punished them for disrespect, requiring a swatch of cloth as a fine. Among all the swatches the traveler recognized his stolen kimono cloth, and the thief was quickly arrested.
Of course, Jizo was sent back, but people started calling the statue Shibarare Jizo, meaning the tied Jizo.
As you can see in the photo, even today many, many people are coming to the Narihira Temple, in Katsushika, Tokyo and tie a rope around the Shibarare Jizo, praying for their wishes to come true.
Click on photo for higher resolution: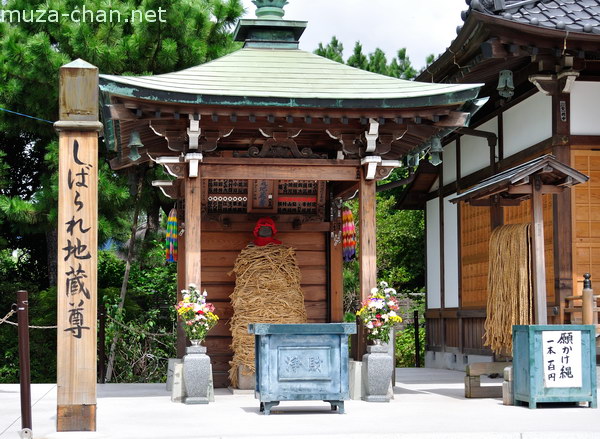 Shibarare Jizo, Narihira Temple, Katsushika, Tokyo
If you want to license my photos for commercial use, please
contact me
EXIF Info:
| | |
| --- | --- |
| | Nikon D90 |
| | Lens: VR 18-55mm F/3.5-5.6G |
| | Focal Length: 35mm |
| | Aperture: F/5.6 |
| | Shutter Speed: 1/600s |
| | ISO Sensitivity: ISO 200 |
| | |
| --- | --- |
| | Yesterday's Japan Photo: |