Discussing these days with a group of people preparing to visit Japan, I realized that while everybody knows about the two important religions of Japan, Buddhism and Shinto, few people know how to distinguish their specific characteristics, especially when it comes to architecture - the most important part for a foreign traveler.
Since the two religions were officially separated only at the end of the 19th century, many important sites include both Shinto and Buddhist structures. However, spiritually speaking, the two religions are very different and the architecture reflects the differences.
First of all, let's be clear: there are always Buddhist temples and Shinto shrines. Then, you can easily identify a Shinto shrine by its torii gates - at least one torii is always present at the entrance of a shrine. Of course, the temples also have gates, but the Buddhist temple gates (mon) are completely different, more complex structures.
However, like any good rule, this one has exceptions too, a very few temples have… torii at the entrance, as you can see in this photo: the very old Shitennoji Temple from Osaka, which is the oldest state-built Buddhist temple in Japan (was founded in 593), was always featuring a torii, which makes it a very interesting subject for religion historians…
Click on photo for higher resolution: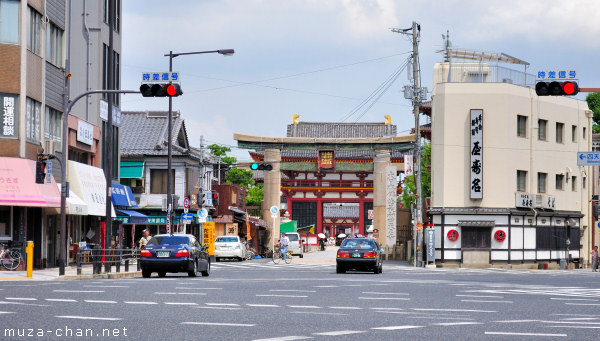 Shitennoji Temple, Osaka
If you want to license my photos for commercial use, please
contact me
EXIF Info:
| | |
| --- | --- |
| | Nikon D90 |
| | Lens: VR 18-55mm F/3.5-5.6G |
| | Focal Length: 55mm |
| | Aperture: F/5.6 |
| | Shutter Speed: 1/1000s |
| | ISO Sensitivity: ISO 200 |
| | |
| --- | --- |
| | Yesterday's Japan Photo: |