Visiting in Japan the larger Shinto shrines, you will sometimes discover a building said to house a horse… but that building is rarely a real stable, like the Shinkyu-Sha from the Toshougu Shrine in Nikko. In most cases, inside there's only the statue of a horse, like in this case from the Yasaka Shrine in Kyoto…

This is actually a remnant of an old Japanese tradition which begun with the donations made by one of the first Emperors of Japan to the Kibune Shrine in Kyoto. During a rainy year, the Emperor's donation consisted in a white horse - as a prayer to stop the rain, while during a drought year the donation was a black horse, with prayers to bring the rain…
In time the tradition changed, replacing the real horse with a horse statue - and this is also the origin of the ema votive plaques, originally decorated with horse drawings.
Click on photo for higher resolution: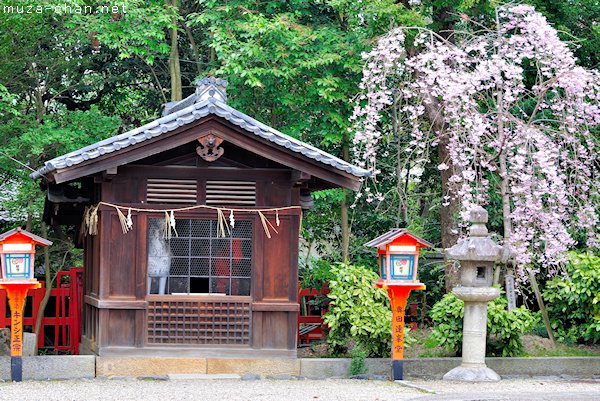 Yasaka Shrine, Gion, Kyoto
If you want to license my photos for commercial use, please
contact me
EXIF Info:
| | |
| --- | --- |
| | Nikon D90 |
| | Lens: 18-70mm F/3.5-4.5G |
| | Focal Length: 70mm |
| | Aperture: F/5.6 |
| | Shutter Speed: 1/40s |
| | ISO Sensitivity: ISO 200 |
| | |
| --- | --- |
| | Yesterday's Japan Photo: |