Inside the Great Buddha Hall (Daibutsuden) of the Todaiji Temple in Nara, towards the exit - right near the souvenir area, there is one of the main pillars of the building.
It's a very thick pillar (it holds the largest wooden building in the world) and at the base it is pierced by a hole, which is said to be the same size as the Daibutsu's nostril. The legend says that if you manage to pass through this hole, you will attain enlightenment in the next life.
So many people try, that the temple even installed a belt queuing system.
Tempting… should I try?
Click on photo for higher resolution: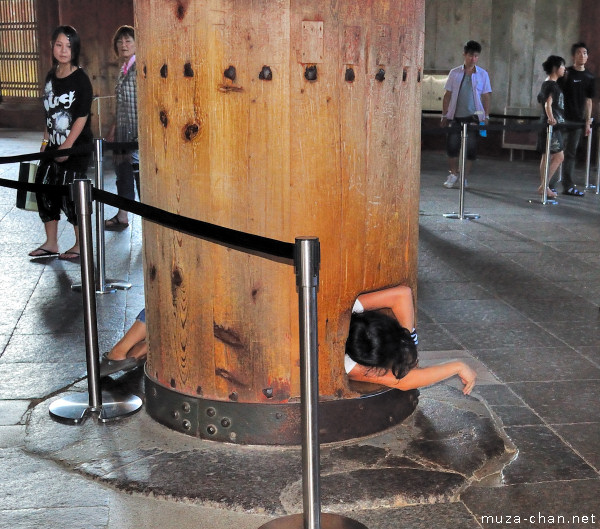 Todaiji Temple, Nara
If you want to license my photos for commercial use, please
contact me
EXIF Info:
| | |
| --- | --- |
| | Nikon D90 |
| | Lens: VR 18-55mm F/3.5-5.6G |
| | Focal Length: 20m |
| | Aperture: F/5.6 |
| | Shutter Speed: 1/60s |
| | ISO Sensitivity: ISO 1000 |
| | |
| --- | --- |
| | Yesterday's Japan Photo: |