Less than 1 kilometer north of Kamakura Station there's a temple related to a very sad chapter of Japan's history, a story which impressed me deeply… In 1333, the forces of the Emperor Go-Daigo conquered Kamakura in a battle that remained in history as the Siege of Kamakura.
Defeated, the leaders of the Hōjō clan redrew at the Tōshō-ji Temple, which was their family temple. There, the 870 members of the clan, men, women and children, all committed suicide, in accordance with the samurai code of honor, and the clan disappeared…
It is a shocking story, but probably not very surprising, because the Hōjō clan's leaders are the ones who spread Bushido in Japan.
Rulers of Japan for 130 years, they also spread the Zen Buddhism and established the first Zen temple in Japan, the Kencho-ji Temple from Kamakura. The Hōjō clan is also famous for defending Japan against the Mongol invaders.
In 1335, the Emperor Go-Daigo and Takauji Ashikaga established the Hokai-ji Temple as a funeral temple for the Hōjō clan. Today, the Hokai-ji Temple is one of the most important temples in Kamakura and it is also very popular among pilgrims, like the large number of senjafuda indicates:
Click on photo for higher resolution: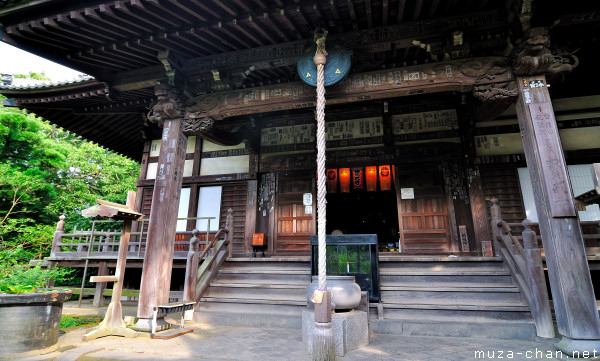 Main Hall, Hokai-ji Temple, Kamakura
If you want to license my photos for commercial use, please
contact me
EXIF Info:
| | |
| --- | --- |
| | Nikon D90 |
| | Lens: 12-24mm F/4G |
| | Focal Length: 12mm |
| | Aperture: F/5.6 |
| | Shutter Speed: 1/80s |
| | ISO Sensitivity: ISO 200 |
| | |
| --- | --- |
| | Yesterday's Japan Photo: |