The most important building of the Rinno-ji Temple from Nikko is the Sanbutsudo 「三仏堂」, "Three Buddha" Hall. Its name comes from the three giant sculptures of Buddha enshrined inside: Amida Nyorai, Senju-Kannon (Kannon with a thousand arms) and Bato-Kannon (Kannon with a horse head).
The statues, representing the Buddhas in seated position, were sculpted at the beginning of the Edo period, from wood covered with gold leaf. The statues are 8 meters tall and they are amazingly impressive. I have rarely seen something so beautiful and I would like to add that the serenity felt inside the hall is something to be experienced…
Photography is not allowed inside, but you can see a glimpse of them on the official website.
Travel Tip: Sanbutsudo is currently renovated and the works will be finished only in 2021, but the hall is still opened for visitors. So, even if you'll see the building covered by scaffoldings, you can enter and admire the statues.
Click on photo for higher resolution: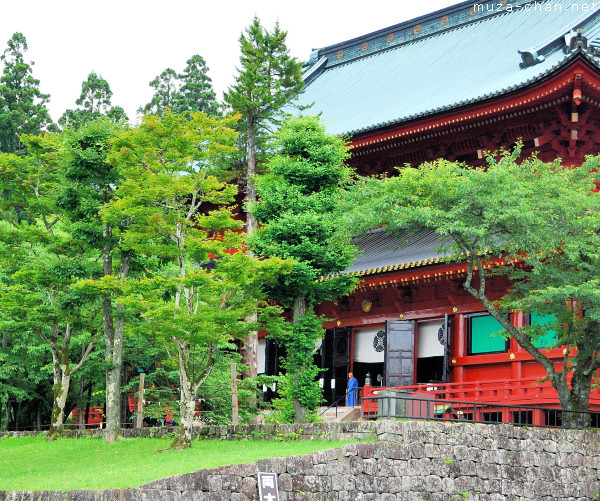 Rinno-ji Temple, Sanbutsudo Hall, Nikko
If you want to license my photos for commercial use, please
contact me
EXIF Info:
| | |
| --- | --- |
| | Nikon D80 |
| | Lens: VR 18-55mm F/3.5-5.6G |
| | Focal Length: 35mm |
| | Aperture: F/5.6 |
| | Shutter Speed: 1/250s |
| | ISO Sensitivity: ISO 200 |
| | |
| --- | --- |
| | Yesterday's Japan Photo: |