At the end of the Edo period, Yokohama was a small fishermen's village, with just 100 inhabitants… Now there are 3.6 million people living in Yokohama, and it is the second biggest city in Japan.
The construction of Minato Mirai 21, built mostly on reclaimed land, started in 1983 and the name was selected by the public, Minato Mirai 21 meaning "Port Future 21″ (where 21 refers to the 21st century). This is today one of the most important and modern tourist areas from Japan, attracting each year 50 million tourists. With over 600 stores, 200 restaurants, hotels, hot spring baths, museums and with the Cosmo World amusement park, there is a lot of sightseeing and shopping that can be done in Minato Mirai.
Travel Tip: If you visit the Minato Mirai zone, the Yokohama-Minatomirai Pass (which costs just 500 yen) allows unlimited rides on local and rapid JR East trains, on the Negishi Line between Yokohama and Shin-Sugita and on the Yokohama Minatomirai Line. Just ask for it at the Japan Rail ticket offices (Midori-no Madoguchi) in the area.
And if you want to admire the whole area, the best place is from the Yokohama Landmark Tower, the tallest skyscraper in Japan, which offers a magnificent view over the entire region:
Click on photo for higher resolution: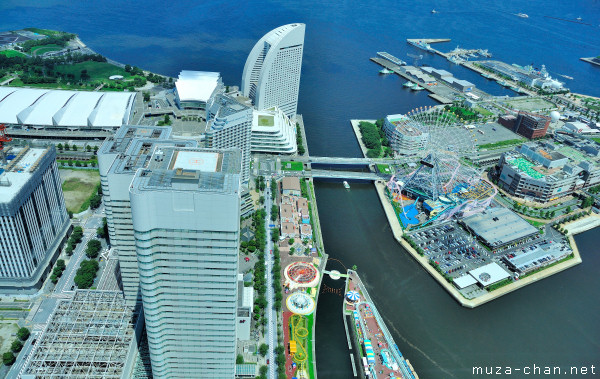 Minato Mirai 21, Yokohama
If you want to license my photos for commercial use, please
contact me
EXIF Info:
| | |
| --- | --- |
| | Nikon D90 |
| | Lens: VR 18-55mm F/3.5-5.6G |
| | Focal Length: 18mm |
| | Aperture: F/5.6 |
| | Shutter Speed: 1/1600s |
| | ISO Sensitivity: ISO 200 |
| | |
| --- | --- |
| | Yesterday's Japan Photo: |