The unusual decorations of the Fuku-Haku Deai bridge in the Tenjin district of Fukuoka, shaped like an inverted cup pierced by a spear, are a hint to an old story about Nihongou, one of the Three Great Spears of Japan.
It is said that 400 years ago Mori Tahei, one of the retainers of the Kuroda clad, was sent to deliver a message to Fukushima Masanori, the lord of Hiroshima. By then, Masanori was the proud owner of Nihongou, a unique spear, previously owned by the Imperial family, considered one of the Three Great Spears of Japan.

Being a known drinker, Masanori invited the envoy to a drink, but Tahei refused, being on duty. So, the lord challenged him, declaring that if Tahei will be able to withstand drinking more than him, will be rewarded with a gift of his choice. Tahei drank and claimed as prize the famous spear…
The quirky event was commemorated in a folk song (Kuroda bushi), and today the bridge decorations are inspired by this old samurai drinking story.
Click on photo for higher resolution: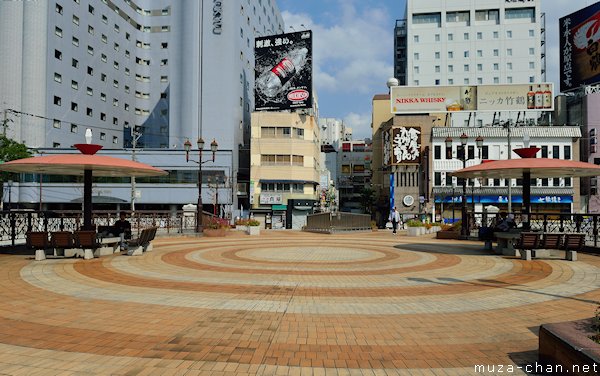 Fuku-Haku Deai Bridge, Tenjin, Fukuoka
If you want to license my photos for commercial use, please
contact me
EXIF Info:
| | |
| --- | --- |
| | Nikon Df |
| | Lens: 24-70mm F/2.8G |
| | Focal Length: 24mm |
| | Aperture: F/5.6 |
| | Shutter Speed: 1/1600s |
| | ISO Sensitivity: ISO 200 |
| | |
| --- | --- |
| | Yesterday's Japan Photo: |