Strolling through Ginza, you can't help but notice quite a few buildings standing out through design, like the De Beers Ginza Building, the Mikimoto Ginza 2 or the Swarovski Ginza. Today, I would like to show you another interesting building, that captured my attention not only with its design but also with its anti-seismic technology, inspired by old Japanese earthquake protection techniques.
This is Maison Hermes, flagship store and headquarters of Hermes Japan, a building designed by Renzo Piano, a well known architect whose work in Japan also includes the Kansai Airport. The building is a simple yet sophisticated parallelepiped, with the facade made of small, 45 centimeters glass blocks. The source of inspiration was the traditional Japanese lantern and, because by night the building is glowing, the desired effect was to create a giant "magic lantern".
The anti-seismic technology was inspired by the techniques used by the builders of Japanese pagodas, obviously improved by modern technologies: the steel structure is flexible, articulated with dampers, so that during an earthquake the entire building moves and the tension is uniformly distributed.
Click on photo for higher resolution: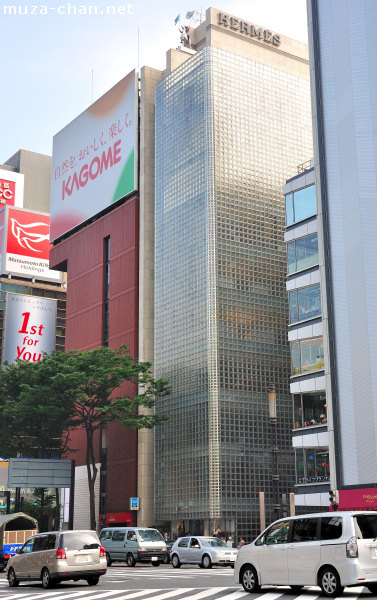 Maison Hermes, Ginza, Tokyo
If you want to license my photos for commercial use, please
contact me
EXIF Info:
| | |
| --- | --- |
| | Nikon D90 |
| | Lens: VR 18-55mm F/3.5-5.6G |
| | Focal Length: 34mm |
| | Aperture: F/5.6 |
| | Shutter Speed: 1/400s |
| | ISO Sensitivity: ISO 200 |
| | |
| --- | --- |
| | Yesterday's Japan Photo: |