Strolling between the skyscrapers from Shinjuku, you can also admire several works of art, some even made ​​by famous artists. One of them is this creation of a modernist Japanese sculptor, Masayuki Nagare.
Also known as the "Samurai Artist", Masayuki Nagare is an amazing artist: he learned the art of Japanese Zen gardens in the temples from Kyoto, studied Shinto and sword making at university and became a world renowned artist by self-studying sculpture… He also appeared in the media many times during the last years because one of its sculptures, the Cloud Fortress, displayed near the World Trade Center in New York, was destroyed in the 9/11 attacks.
Most of his sculptures are abstract, but this one is an exception: a very cute cat, called Tama-chan, which drew my attention while I was passing by the Shinjuku Sumitomo Building.
Click on photo for higher resolution: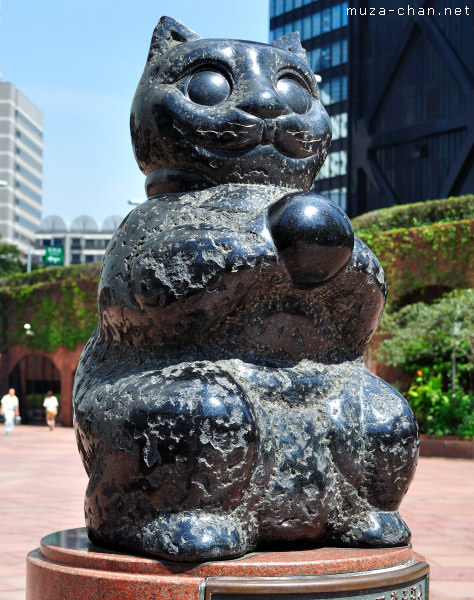 Tama-chan Statue, Shinjuku Sumitomo Building, Tokyo
If you want to license my photos for commercial use, please
contact me
EXIF Info:
| | |
| --- | --- |
| | Nikon D90 |
| | Lens: VR 18-55mm F/3.5-5.6G |
| | Focal Length: 34mm |
| | Aperture: F/7.1 |
| | Shutter Speed: 1/400s |
| | ISO Sensitivity: ISO 200 |
| | |
| --- | --- |
| | Yesterday's Japan Photo: |