As the Japanese girls have the Hina Matsuri on March 3rd, the Japanese boys have their own festival, Tango no sekku 「端午の節句」, on May 5th, which was designated as a National holiday, Kodomo no hi 「こどもの日」 (Children's Day), in 1948.
A TV recording from the Kodomo no hi festival, at Senso-ji:
The origins of this festival are unknown, but historians trace it to an ancient rural Chinese custom, which involved ceremonial helmets, bows and arrows. The custom became popular in Japan at the beginning of the 7th century.
Another version is that the festival started with some farming customs taking place in May, when the insects start harming the crops. The farmers where trying to "frighten" the insects with bright banners and grotesque figures. Later, these figures begun to represent warriors.
Yet another legend traces the origins of the Tango no sekku to the Tokimune Hojo's victory over the invading Mongols on May 5th 1281, when the Mongolian fleet was destroyed by a great typhoon, the famous kamikaze. As a result, the Samurai families erected flags and streamers in celebration of victory.
Today, on 5th May, a display is arranged in the alcove in the guest rooms of Japanese houses. The decorations are a miniature helmet, suits of armor, a sword, a bow and arrow, and silk banners bearing the family crest.
Click on photo for higher resolution: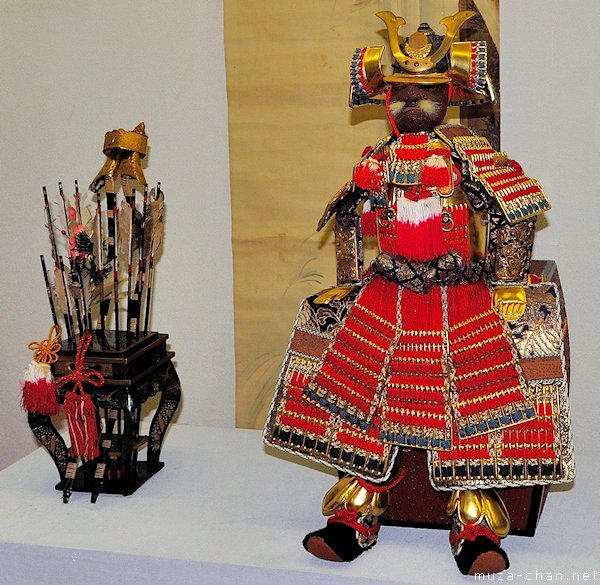 Miniature armor, Tango no sekku, Ohashi House, Kurashiki
During the Edo Period, musha ningyo (warrior dolls) were added, representing historical figures, as general Minamoto no Yoshitsune with Benkei, Toyotomi Hideyoshi, Oda Nobunaga, Momotaro, Shoki (an ancient Chinese general believed to protect people from devils) and Kintaro (hero from the Japanese folklore).
Streamers, in the form of carp (koinobori) are displayed these days in Japan, one for each boy. The biggest carp, colored in black, represents the father, the red one represents the mother, and childrens are represented by smaller carps.
Originally made of paper, these are made today from polyester or nylon.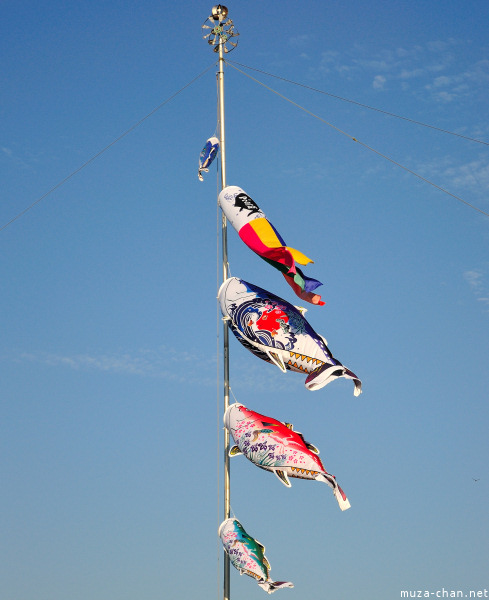 Today, as many Japanese are living in apartment buildings, smaller koinobori are used and displayed in house.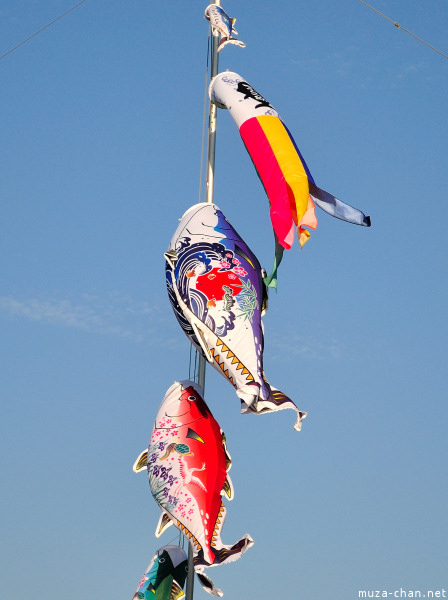 The carp is an old symbol of perseverance and self control and it's considered full of energy and power, because it can fight its way up the streams and cascades. Because of its strength and determination to overcome all obstacles, the carp is considered an appropriate symbol to encourage manliness and the overcoming of difficulties in life.
Two years ago, at the festival in Kazo Saitama, a huge 100 meter Koinobori was raised:
The custom is also represented in the Japanese art, for example the ukiyo-e painting of al lui Kuniyoshi Utagawa, named Banners for the boys festival.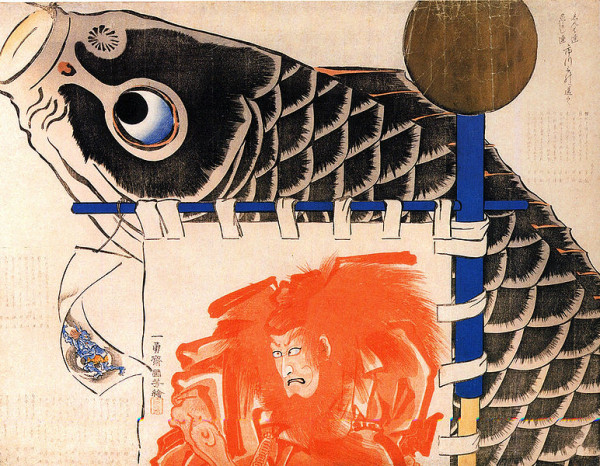 Kuniyoshi Utagawa - Banners for the boys festival
, image via
Wikipedia
And in conclusion, a haiku by Takahama Kyoshi, inspired from this festival:
kaze fukeba
kuru ya tonari
no koi-nobori
when the wind blows
they come this way, neighbours
carp streamers