There are many interesting buildings in Tokyo, but some of them are located in quite crowded places, so they can be admired just from a single point. That's why I'm often preferring wider spaces and for that, Odaiba is one of the best. But I think things will change here too, I've already seen some big construction sites in Odaiba.
Until then, here's a view I always enjoy: in the center you can see the spectacular Tokyo Baycourt Club Hotel and Spa Resort. This interesting skyscraper actually consists in two 27-floor buildings, connected by an arch at 100 meters above the ground.
Near the base of the Tokyo Baycourt Club you can also see the roofs of the Partire Tokyo Bay Wedding Village, the most popular place in Tokyo for those who wish a "Western Style" wedding (I know, this sounds misleading, but this is how a Christian-style wedding is called in Japan).
To the left you can see the headquarters of Fuji Television and to the right, the two white and burgundy towers are The Towers Daiba, luxury condominium buildings.
Click on photo for higher resolution: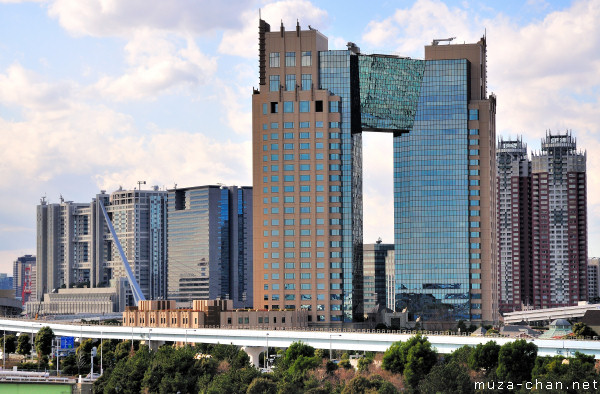 Tokyo Baycourt Club Hotel and Spa Resort, Ariake, Tokyo
If you want to license my photos for commercial use, please
contact me
EXIF Info:
| | |
| --- | --- |
| | Nikon D300 |
| | Lens: 18-70mm F/3.5-4.5G |
| | Focal Length: 70mm |
| | Aperture: F/7.1 |
| | Shutter Speed: 1/500s |
| | ISO Sensitivity: ISO 200 |
| | |
| --- | --- |
| | Yesterday's Japan Photo: |