Today we commemorate one year since the 2011 Great East Japan Earthquake, the most powerful earthquake in the history of Japan. Today, I think that the most appropriate photo from Japan would be a monument dedicated to the victims of earthquake… an earthquake that caused another great tragedy, the deadliest earthquake in the Japanese history, the Great Kanto Earthquake.
The earthquake hit on September 1, 1923, at 11:58, when many people were preparing for lunch. That's why the earthquake was followed by terrible fires, lasting 2 days, fires that killed many more people. The biggest tragedy took place in Ryogoku, on the place of today's Yokoamicho Park. Here, after the earthquake, about 38000 people took refuge, but the following fire incinerated them…
The Tokyo Memorial Hall (Tokyo Irei-do) was built in their memory on September 1, 1930, and the ashes of unidentified victims are enshrined here. The monument was designed by the famous arhitect Ito Chuta in the shape of a Buddhist temple, with a three-story pagoda. Destroyed by the bombings from 1945, Tokyo Irei-do was rebuilt in 1951 and it is known today as the Tokyo Memorial Temple for Two Great Disasters, dedicated to the victims of the Great Kanto Earthquake and to the victims of the WW II bombings.
Click on photo for higher resolution: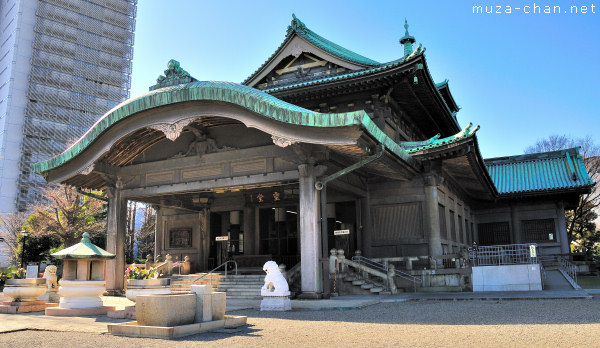 Tokyo Memorial Hall for the Casualties of the Great Kanto Earthquake, Ryogoku, Tokyo
If you want to license my photos for commercial use, please
contact me
EXIF Info:
| | |
| --- | --- |
| | Nikon D300 |
| | Lens: 18-70mm F/3.5-4.5G |
| | Focal Length: 18mm |
| | Aperture: F/5.6 |
| | Shutter Speed: 1/640s |
| | ISO Sensitivity: ISO 200 |
| | |
| --- | --- |
| | Yesterday's Japan Photo: |