I was writing in 2010 that after visiting Tokyo for 4 years in a row, strolling through Nishi-Shinjuku was one of my favorite activities. Now, after 2 years and 4 more visits to Tokyo, I have to say that Nishi-Shinjuku is still a place where I return on every trip. And the main attraction here is the Tokyo City Hall complex, also known as the Tokyo Metropolitan Government Building - or Tochō, a short of the official Japanese name Tōkyō-to Chōsha 「東京都庁舎」.
The complex includes three buildings, the Main building Number One, the building Number Two and the Metropolitan Assembly Building, all built between 1988 and 1991, designed by the famous Japanese architect Kenzo Tange. Among them, the most spectacular (and the main tourist attraction) is the Main building Number One, the two towers skyscraper (243 meters tall, 48 floors, 2nd place in the Top 10 Tokyo Skyscrapers), here in the center of this photo.
Its design combines old and new architectural concepts: the two towers are said to make the building look like a Gothic cathedral, while the facade is decorated with motifs suggesting the microchips which, at the time of construction, were defining the electronics industry.
Travel tip: Regarding the touristic aspect, I think that Tochō is a must visit in Tokyo. Not only because it is an impressive architectural complex, and not only because from its towers you will enjoy some of the most beautiful views over Tokyo.
There's something much more interesting inside Tokyo Tochō: at its first floor, a discerning traveler will find an amazing travel information center, a wealth of information with literally hundreds of possible destinations in Japan, with maps, explanations and more. Plus, depending on current promotions, you may find there some souvenir shops unlike any other in the city…
Click on photo for higher resolution: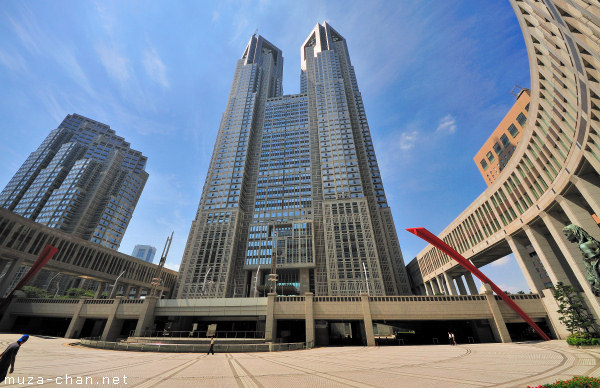 Tokyo Metropolitan Government Building, Shinjuku, Tokyo
If you want to license my photos for commercial use, please
contact me
EXIF Info:
| | |
| --- | --- |
| | Nikon D300 |
| | Lens: 8-16mm F/4.5-5.6G |
| | Focal Length: 8mm |
| | Aperture: F/7.1 |
| | Shutter Speed: 1/2500s |
| | ISO Sensitivity: ISO 200 |
| | |
| --- | --- |
| | Yesterday's Japan Photo: |