Visiting Japan, one thing you'll notice everywhere are people wearing traditional clothing. Ladies in stylish kimono and girls in colorful yukata are common sight on the streets of the city, while miko or priests wearing the traditional hakama can be seen in any large Shinto shrine…
During festivals, the number of people wearing traditional clothes increases substantially, the boys get dressed up in yukata too, plus the teams of people wearing happi coats…
But probably the most striking piece of traditional Japanese clothing is fundoshi.
Why? Because, although fundoshi is an undergarment, a loincloth, it may be worn as is during festivals… Plus there are even festivals where everybody is wearing only fundoshi - the most famous taking place in February, the Hadaka Matsuri at the Saidaiji Temple in Okayama.
There are several types of fundoshi, the most popular version being the rokushaku (meaning six shaku - a traditional length unit, roughly equal to one foot), made from a single, 2 meters long (like the name says) white cloth. I imagine that it's rather difficult to put on - I was told that there are dozens of methods of tying the fundoshi - so, even if for the Western visitor it looks strange, I can understand why it is worn with pride, as a festival clothing… Fundoshi was also popularized by the famous taiko drummers group Kodo and if you participate at mikoshi parades, you may see strong young men wearing fundoshi and happi coats, like in this photo…
And I almost forget… don't get the wrong idea, wearing fundoshi is considered very manly.
Click on photo for higher resolution: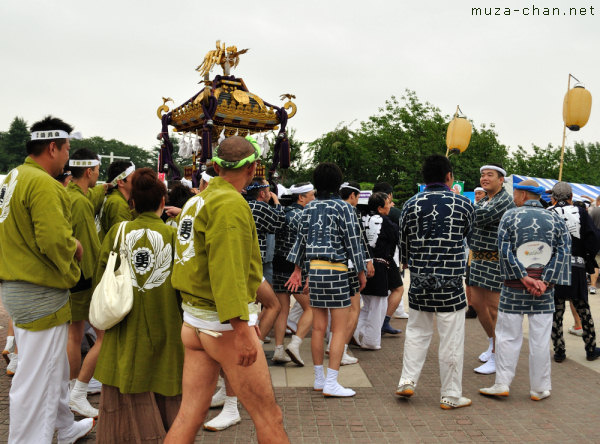 Traditional happi and fundoshi wearing at Japanese festivals, Tokyo
If you want to license my photos for commercial use, please
contact me
EXIF Info:
| | |
| --- | --- |
| | Nikon D90 |
| | Lens: VR 18-55mm F/3.5-5.6G |
| | Focal Length: 18mm |
| | Aperture: F/5.6 |
| | Shutter Speed: 1/640s |
| | ISO Sensitivity: ISO 250 |
| | |
| --- | --- |
| | Yesterday's Japan Photo: |