Similar to hagoita, which were initially used for a game resembling badminton, the temari (手まり) balls were originally used for a game like football (soccer).
During the Edo period, the women at the Imperial court begun making balls covered with colorful silk threads. Over the years, this became an art form, and later the art became a mass phenomenon, the temari balls being made not only with silk but also with cotton or wool.
Temari are today toys and precious art objects at the same time, and are very popular gifts, symbolizing friendship, loyalty, and carrying the meaning of a wish for good luck and happiness.
Click on photo for higher resolution: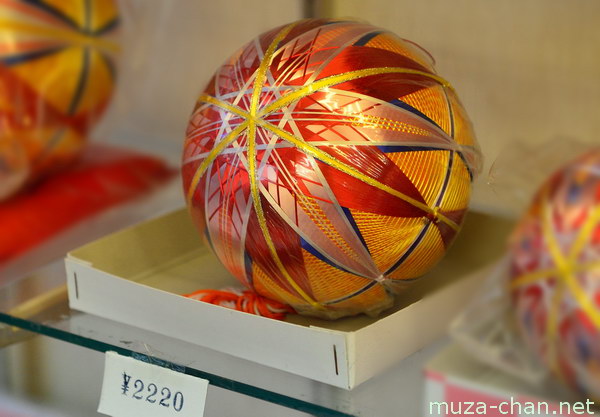 Temari, Matsuyama
If you want to license my photos for commercial use, please
contact me
EXIF Info:
| | |
| --- | --- |
| | Nikon Df |
| | Lens: 24-70mm F/2.8G |
| | Focal Length: 70mm |
| | Aperture: F/4.5 |
| | Shutter Speed: 1/320s |
| | ISO Sensitivity: ISO 1200 |
| | |
| --- | --- |
| | Yesterday's Japan Photo: |