Some of the most beautiful things I have seen during my travels in Japan are the karesansui gardens, the Japanese Zen Buddhist gardens. Made of rocks, sand and sometimes moss, the karesansui Zen gardens abstractly represents miniature islands, oceans, beaches or even bridges. The water is represented with sand carefully raked to suggest the streams, the islands are illustrated with rocks and the moss evokes the woods. More than this, the Zen gardens are also allegories for Zen teachings…
But amongst all the Zen gardens, in the Zuiho-in Temple from Kyoto I found a very special one, with a supplementary level of abstraction…
It is called the "Garden of the Cross" and the 7 rocks form the pattern of… a Christian Cross!
No, this is not an illusion nor a legend, this Zen garden was built by Ōtomo Sōrin, one of the few daimyō converted to Christianity. It is said that there's also a Virgin Mary statue buried in the garden, to symbolize the Kakure Kirishitans, the "hidden" Japanese Christians who continued to practice after Christianity was forbidden in Japan.
How to see it? The three rocks in the forefront of the photo make the vertical lower line. Extending the line, there are two more rocks making the upper part and then one rock on the left and one on the right, creating the horizontal line:
Click on photo for higher resolution: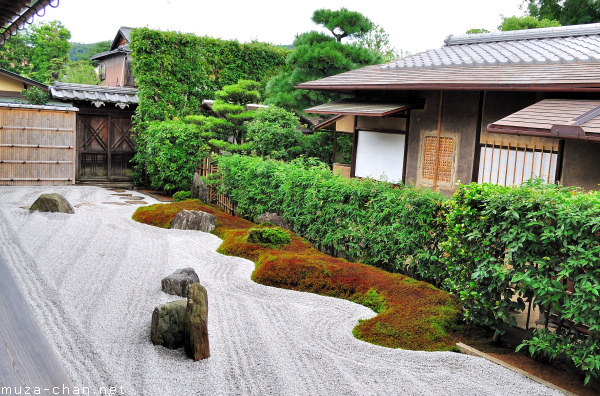 Zuiho-in Temple, Kyoto
If you want to license my photos for commercial use, please
contact me
EXIF Info:
| | |
| --- | --- |
| | Nikon D90 |
| | Lens: VR 18-55mm F/3.5-5.6G |
| | Focal Length: 18mm |
| | Aperture: F/5.6 |
| | Shutter Speed: 1/320s |
| | ISO Sensitivity: ISO 200 |
| | |
| --- | --- |
| | Yesterday's Japan Photo: |