At the feet of the Tokyo Tower, you can visit Zōjō-ji, one of the best known temples from Tokyo, the main temple of the Jodo shu (Pure Land) sect of Buddhism.
The main building (Hondo), here in the center of the picture, was rebuilt in 1974, a combination of Buddhist architecture with modern influences. It was renovated recently, so the roof looks mint and what caught my attention were two shibi, the decorations that from afar look like two golden horns.
Originating from China, shibi is a type of roof ornament used on the main ridge of the temple architecture, very popular in the old Japan during the Asuka period. It is believed to protect a building against fire.
Click on photo for higher resolution: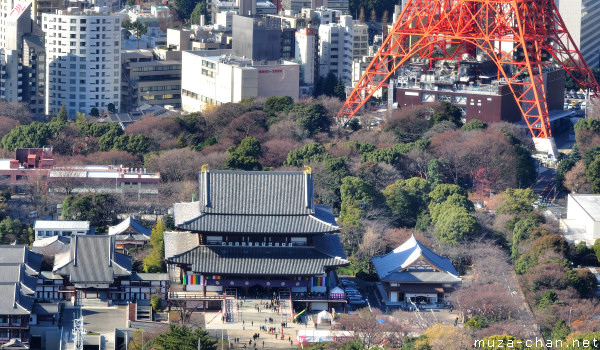 Zojo-ji Temple, View from World Trade Center Observatory, Tokyo
If you want to license my photos for commercial use, please
contact me
EXIF Info:
| | |
| --- | --- |
| | Nikon D90 |
| | Lens: VR 70-300mm F/4.5-5.6G |
| | Focal Length: 75mm |
| | Aperture: F/7.1 |
| | Shutter Speed: 1/400s |
| | ISO Sensitivity: ISO 200 |
| | |
| --- | --- |
| | Yesterday's Japan Photo: |