If you're looking for unusual places to visit, very close to the Kudanshita Station in Chiyoda-ku, Tokyo, you can visit the Airex Building. The building itself has a great design (and it received a prize for architecture in 1994), but what is unusual about it is the fact that this is a… shrine building.
The first sign that this is actually a Shinto shrine is given by the red torii and the two komainu guarding the entrance. However, being accustomed to Tokyo's cramped space, I was tempted to consider it just another building constructed very close to a shrine.
But this is a special case, the building is actually part of the shrine. Passing through the torii, after a small corridor, you'll reach the inner shrine, the Tsukudo Shrine, dedicated to Taira no Masakado, the God of samurai.
Click on photo for higher resolution: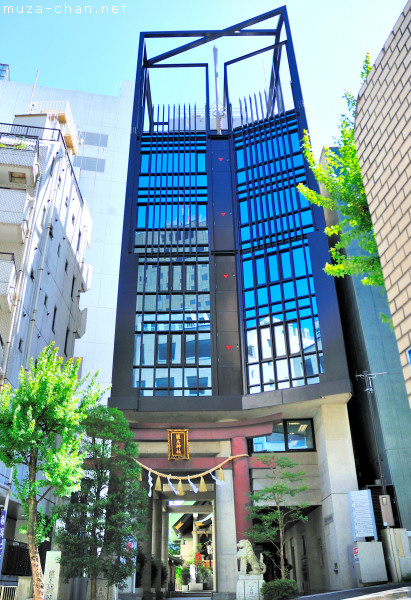 Airex Building, Tsukudo Shrine, Chiyoda-ku, Tokyo
If you want to license my photos for commercial use, please
contact me
EXIF Info:
| | |
| --- | --- |
| | Nikon D300 |
| | Lens: 12-24mm F/4G |
| | Focal Length: 18mm |
| | Aperture: F/3.5 |
| | Shutter Speed: 1/640s |
| | ISO Sensitivity: ISO 200 |
| | |
| --- | --- |
| | Yesterday's Japan Photo: |