If you like ships and boats, Fune no Kagakukan, the Museum of Maritime Science is a must-visit when you are in Tokyo. The museum not only displays an astonishing array of exhibits, but includes recreation opportunities so it is a place where you can easily spend the whole day.
From all the items displayed, my attention was drawn to a series of scale models representing atakebune, unusual Japanese warships from the 16th century (the middle of the Sengoku "Warring States" period). These ships, armed with cannons and arquebuses, were used to patrol around the islands and, as you can see from this picture, atakebune were more like floating fortresses than warships.
It is known that the famous Oda Nobunaga used in 1576 a fleet of 6 great atakebune, but there is very little information about them. It seems that these Ō-atakebune were covered in iron (they were also called tekkōsen "iron armored ships") and this means that Japan has developed the first armored warships in history (more than 280 years before the first ironclad battleship).
Click on photo for higher resolution: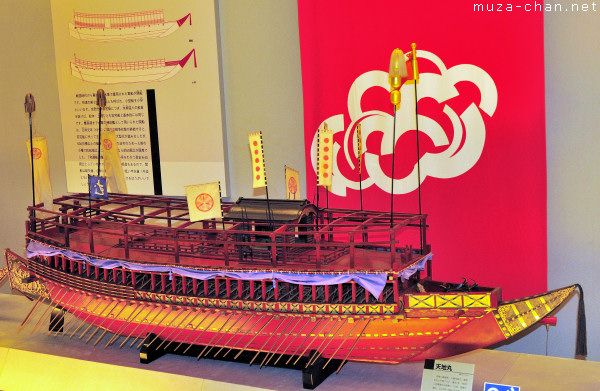 Atakebune scale model, Museum of Maritime Science, Odaiba, Tokyo
If you want to license my photos for commercial use, please
contact me
EXIF Info:
| | |
| --- | --- |
| | Nikon D300 |
| | Lens: 18-70mm F/3.5-4.5G |
| | Focal Length: 29mm |
| | Aperture: F/3.8 |
| | Shutter Speed: 1/80s |
| | ISO Sensitivity: ISO 640 |
| | |
| --- | --- |
| | Yesterday's Japan Photo: |