The Great Buddha Hall (Daibutsuden) from the Todai-ji Temple in Nara, is the largest building in the world made primarily of wood and it hosts one of the most famous Great Buddha statues in Japan, the Daibutsu from Nara.
Representing Vairocana Buddha (the "bliss body" of the historical Gautama Buddha), the first giant Buddha statue in Nara was made in 752 but, in the centuries that followed, it was damaged and reconstructed many times - the body was rebuilt in 1185, while the today's head was made in 1692.
Made of bronze, weighting 500 tons and with an impressive height of 15 meters, seeing this statue up close is an amazing experience - you can compare it in this photo with the man in front of it. The Nara Daibutsu also holds a record, being the largest bronze image of Vairocana Buddha in the world.
Click on photo for higher resolution: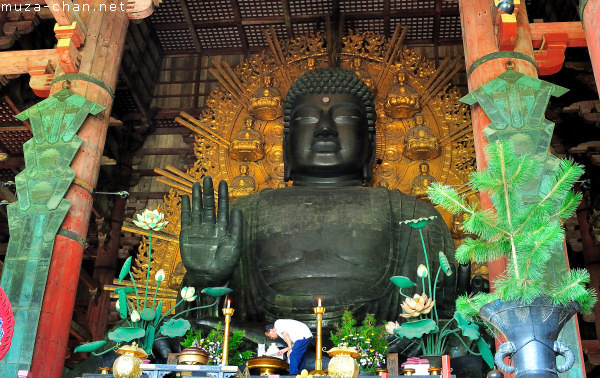 The Great Buddha, Todai-ji Temple, Nara
If you want to license my photos for commercial use, please
contact me
EXIF Info:
| | |
| --- | --- |
| | Nikon D90 |
| | Lens: VR 18-55mm F/3.5-5.6G |
| | Focal Length: 18mm |
| | Aperture: F/5.6 |
| | Shutter Speed: 1/30s |
| | ISO Sensitivity: ISO 1000 |
| | |
| --- | --- |
| | Yesterday's Japan Photo: |