There are many Japanese traditional dolls, made from all kind of materials and with different degrees of stylization, but only a few of them are known outside Japan. There is one particular type though, that was very popular in USA before the WWII, a doll that was then selected especially to represent Japan.
Here's the story: At the time, to ease the tensions between Japan and United States (caused by the Immigration Act, banning immigration from East Asia) and to promote goodwill between the two countries, an American missionary, Dr. Sidney Gulick, initiated a project which materialized in over 12000 dolls sent from USA as a gift for the Japanese children. The dolls became known in Japan as the "Blue-eyed Dolls".

As an answer, the Japanese industrialist Eiichi Shibusawa selected the best doll makers from Japan to create 58 dolls, each representing a region from Japan. The dolls were all made in the Ichimatsu style and they received the name Torei Ningyo ("Dolls of Gratitude"). They were sent to libraries and museums from United States and, even if some of them were lost over time, the location of 45 Torei Ningyo is still known. Here you can admire 3 of them: Miss Nara, Miss Gifu and Miss Toyama.
But what is an Ichimatsu doll?
Ichimatsu dolls appeared in Kyoto, at the middle of the Edo Period, representing the famous kabuki actor Sanogawa Ichimatsu, who was specialized in young men roles. So, the doll represents a young men with black hair and traditional haircut, with eyes made of glass and dressed in a kimono made of silk. Over time, the Ichimatsu Dolls models changed, including also girls (all the "Dolls of Gratitude" were girls).
They became so popular that soon were included in the Japanese folklore myths, so it is said that some Ichimatsu Dolls can became alive, can fall in love with the maker and that their hair can start growing… (^_^)
Click on photo for higher resolution: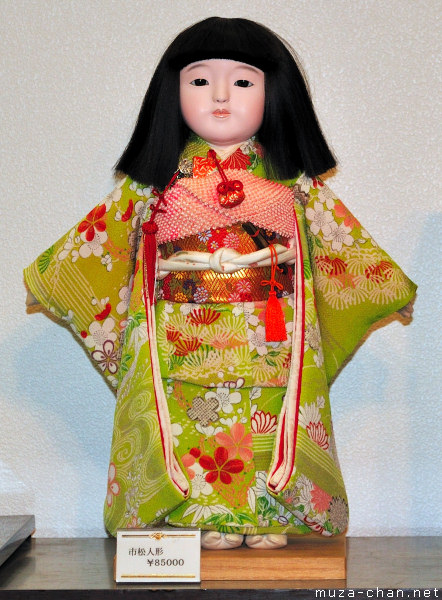 Ichimatsu Doll, Antique Jamboree, Tokyo Big Sight
If you want to license my photos for commercial use, please
contact me
EXIF Info:
| | |
| --- | --- |
| | Nikon D90 |
| | Lens: VR 18-55mm F/3.5-5.6G |
| | Focal Length: 55mm |
| | Aperture: F/5.6 |
| | Shutter Speed: 1/60s |
| | ISO Sensitivity: ISO 200 |
| | |
| --- | --- |
| | Yesterday's Japan Photo: |